Remarkable technological achievements of the last years caused a plethora of changes across all industries, including that of the consulting services. The more businesses come to an understanding that technology brings a lot of benefits, like cost-effectiveness and productivity, the faster these changes are spreading. Neglecting them today will definitely have no positive effect on the future of any company. There's no doubt that one of the solutions with the most significant impact over the world of business is Business Intelligence (BI). And the first step on a company's way to the full usage of the BI capabilities is to reveal a solution, best fitting their field of activity and the business model.
As long as consulting services are used by businesses from nearly any industry, this field could serve as a good example of the effect BI and its separate parts have on the modern business as a whole. In this article, we will detect what the advantages of an integral part of the BI, namely business directory, for the consulting services industry are.
Keeping up with the latest industry trends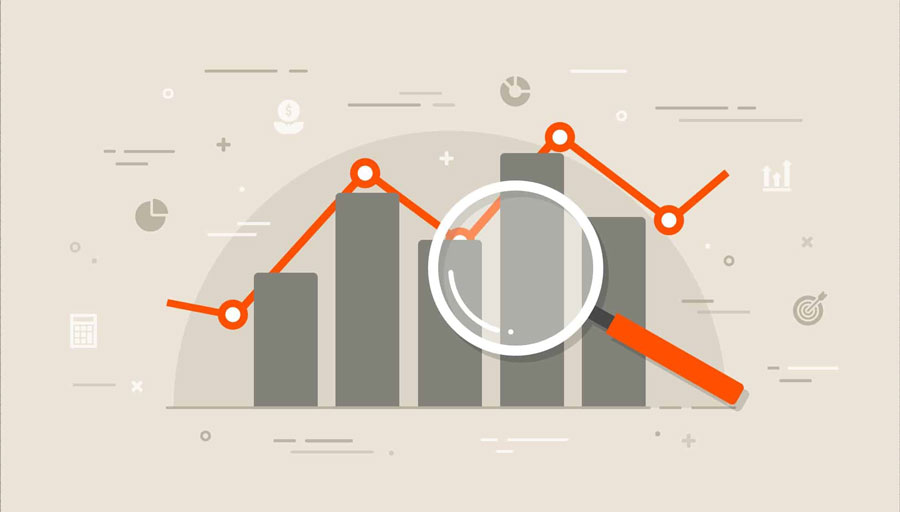 With the higher speeds and unprecedented results, driven by new technologies, that invaded the modern market, the consulting services industry focus is shifting to customer needs. There are customer experience, analytics, agility and business processes modernisation coming onto the scene. These are the main trends the consulting services industry is challenged by in 2020.
A big part of them can be covered by a reliable business directory, that can be adjusted according to the needs and requirements of any business. Let's now shift our attention to the impact these trends have on the main functions of consulting.

Intelligence
Initially, the selected templates, applicable models and frameworks, offered by consulting companies, were their unique selling proposition (USP). A feature that distinguishes modern time, though, is the simplified access to information for everyone. Thus, there are fewer trade secrets. The industries' best practices are available for those who're interested. This is the reason for consulting experts to shift to the asset-based on-demand solutions, such as wrapping up ideas, frameworks, processes and related analytics into personalised packages, delivered through technology.
The competitive advantage of a consulting enterprise or independent consultant here is the high level of personalisation, which can be achieved through a prudent B2B customer due diligence.
An up-to-date business directory, such as Global Database, can help with that. It provides various company insights, that are otherwise hard, as well as resource- and time-intensive to discover. For example, one has to explore multiple specialised websites to find such financial data, as revenue per employee, turnover or directors remuneration, or technologies used on the client's website or even its monthly visitors. A consulting professional can also learn about his/her client's credit risk.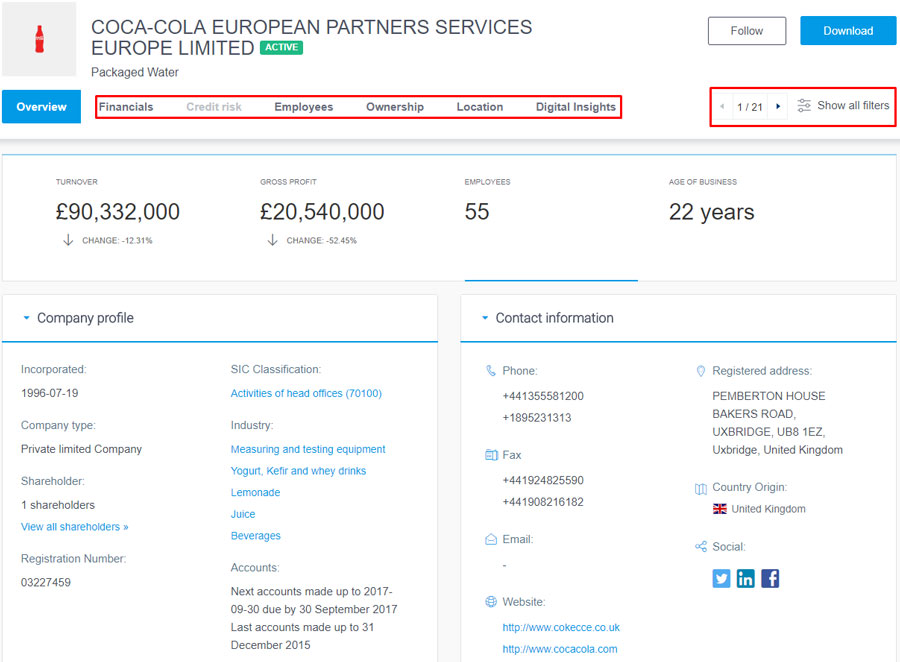 These insights increase the chance the consulting services provided will reflect every detail of the business and include solutions for any pain point.

Insights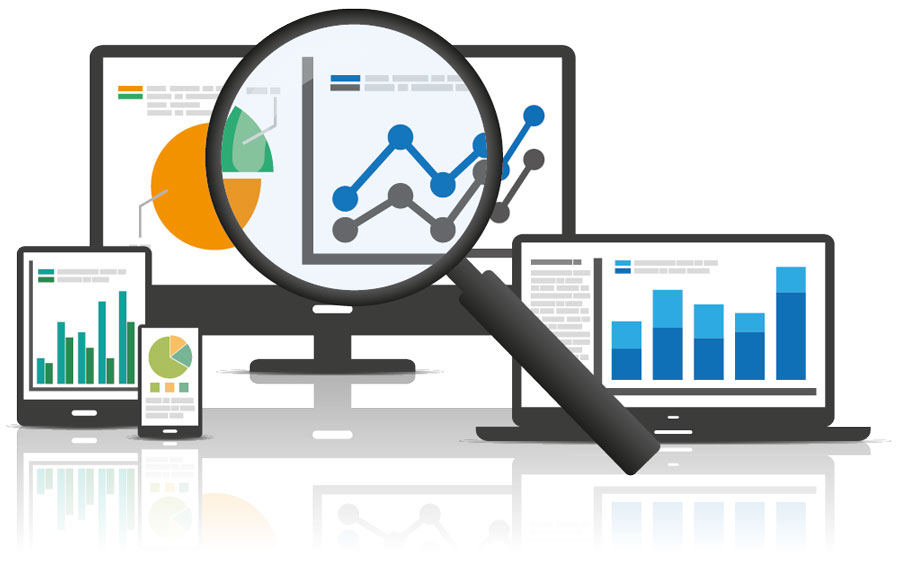 Another trend in modern consulting is the increasing role of strategy as a function, resulting in a tendency to create in-house strategy teams, formed of prominent consulting services alumni. In this context, these people are appreciated as management consulting practices insiders. Moreover, this made the consulting processes more transparent.
However, building a strong strategy team is a long way to go, full of trial and error. A vast business directory, providing relevant and detailed company information, is a powerful tool when it comes to the essential components of every successful strategy. These are market research, competitors insights and clients' acquisition. Try to segment your business directory search results by any criteria important to you given the subject of your research, and you'll get a full and detailed selection of clients, competitors or market insight, that will serve as your business strategy fundamentals.

Specialisation
Nowadays, any company can use independent consulting services of a niche industry expert without addressing large consulting organisations that usually make you pay for a big package instead of specific advice. The trend for specialised services has created a lot of possibilities for independent professionals to provide their services on the market. At the same time, clients can be sure that consultancy is backed up by the real experience of a particular person in the domain. As research from AQUITY shows, the spendings of companies for this kind of service have grown from $100M in 2008 to $800M in 2017 with $1B estimated for 2021.
A reliable business directory could help in case you are an independent specialist from a certain industry, willing to provide consulting services. You can segment your potential clients, using the advanced filtering system and then detect their possible needs, guided by valuable company insights, discovered in the directory. Think about how you could cover their needs and offer your services. A personalised offer has a much bigger chance to be noticed, especially when sent exactly to the responsible person, avoiding gatekeepers.
Here's an example of a filtering system, allowing a very narrow segmentation of search results: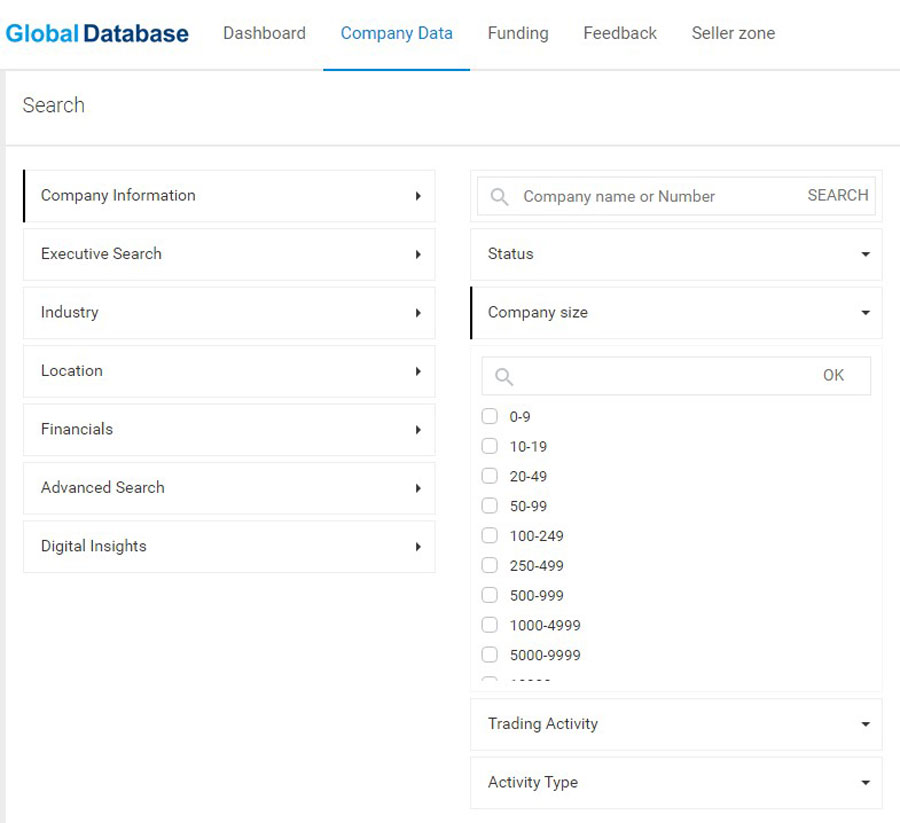 Implementation
As we already detected, small companies and freelance experts are gradually outrunning large players of the consulting market due to more reasonable pricing policy and specialisation instead of general consulting. The independent consultants' networks gain more popularity year by year. They provide such attractive bonuses as high niche expertise, the flexibility of work process and rates, personalised approach and, which is the most important, the possibility to make their own choice of an expert to work with.
At this point, the consulting services industry can benefit from a business directory indirectly, from the client's perspective. A company in need of consulting services can simply segment the companies from respective sectors by the number of employees and the field of activity, detecting small companies, that could provide relevant services, and contact them directly.
Clients acquisition and retention
Meticulous market research, based on relevant data, provided by the business directory you work with, is key to success when it comes to gaining more customers and retaining them as long as possible. Carefully segmenting your potential clients by criteria important in your industry and relevant to your expertise, you can get a suitable prospects database. Using profound and sensitive insights, such as real financial state, as well as the technologies used and credit risk, you can define what their most possible needs you could cover are. Contacting them with a personalised offer, based on the knowledge above, increases your chance to be noticed and perceived as an expert. Monitoring the changes your existing clients' companies experience over time and offering them services, predicting demand even before it is truly perceptible, contributes to your professional reputation, the trust they have in you and your retention rate.
The platforms of the best representatives of the business directory market, including Global Database, usually offer notifications service. You can select the types of information and the companies you'd like to keep track of and get notified about any changes that are happening in certain fields of their activity the moment they arrive. Thus you can be the first to react and win your client's loyalty.
Of course, the efforts mentioned above have to go simultaneously with your high professionalism. Otherwise, there is no sense to try conquering the highly competitive consulting market.
Enhancing the quality of the services

As a consulting company or an independent professional, you might struggle with multiple competitors on your way to bigger sales. One of the main criteria used by a client to select a consulting partner is the quality of services provided by the respective enterprise or person. Of course, every professional is enarmed with in-depth knowledge of tactics and strategies and has a collection of templates, performing well for a particular industry. However, with the latest transparency trends, this knowledge is not enough. The client would want to get more value for his/her money, and business directories could cover this demand.
Learning what are the weak points of your clients, after researching their financial state, credit risk and position on the market, you can adjust your services to fill their gaps, thus gaining their recognition and appreciation.
Wrapping up what was said above, company intelligence is the thing that's driving the changes in the modern business, including the consulting services industry. And the business directory as an integral part of it is contributing to the industry representatives' success, by providing loads of advantages for those who're using it correctly. Our advice is to research all the possibilities a good business directory can give and use them to the fullest benefit of your business.