If this dilemma were imposed a few years ago, the answer to it would have been that it's not the right time for such a large investment. However, B2B e-commerce has evolved and is experiencing a state of continuous rapid growth. Google found that a major reason for this trend is due to the influence exerted by millennials on the buying process. Various industries continue to analyze and foresee the financial impact of allowing customers to do purchases online. According to Forbes, B2B e-commerce technologies spending eclipses the pace of the sector itself by a margin of 200%.
Sales registered through B2B e-commerce sites, portals, and marketplaces are expected to mark an 18% increase over the prior year in the US only. All while, total sales for manufacturers and distributors increased 1.5%, according to the 2020 B2B E-commerce Market Report.
Another distinguished award is the fact that multiple forms of B2B digital commerce channels outgrew the manufacturing and distributor sales. As the 2020 B2B E-commerce Market Report suggests, the change occurred with a 10x multiplier in terms of speed.
To further drive the point behind committing to such an investment here are some ideas showcasing a growth bias.
As the stats themselves show a positive environment for B2B e-commerce to take off, the benefits that you may stand to gain from by implementing it are the main focus of this article.
Imperial growth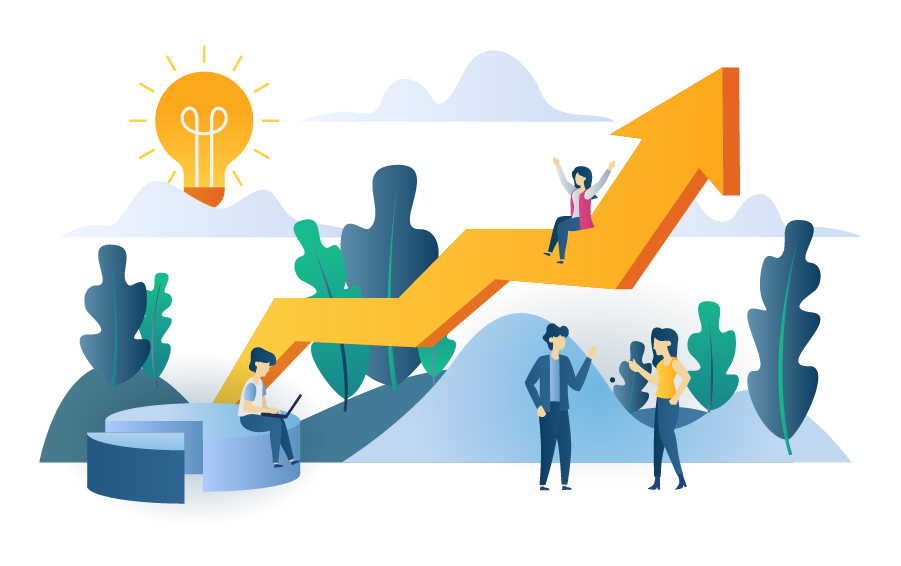 It is no news by this point in time that the spending on B2B e-commerce is sky-high. As such to meet this demanding position, investments in B2B platforms have spiked as well.
Yet another source shows that 85% of the B2B companies realize that e-commerce is a power streamful that has yet to be exploited fully. Shopify has highlighted that today's B2B buyer has evolved beyond the traditional sales reps and vendors, and has mostly turned online.
Therefore, investing in digital commerce platforms doesn't seem to be a gamble anymore.
Significant value
Digital e-commerce generally exhibits pleasing conversion rates and figures. Quite often the orders placed through such portals tend to lean on the bulkier side and is one of the reasons why B2B explosive growth has eclipsed that of the B2C market.
While the exact timeframe of who is quicker to harvest the full benefits is not clearly defined, the order value of B2B buyers on average is close to about 3 times higher than for B2C. Averages can be misleading but if you take into account the comparison multiplier, you may see B2B e-commerce as a win. Surveys conducted on customer experience while browsing such ventures reported an average conversion rate of 10% for regulars, and 3% for executives.
Catching the buyer personas and new clients
As touched on previously, the portfolio of buyer personas is constantly on the move. Only by keeping close attention is it possible to derive the most advantages. Millennials are swarming in on the B2B sector and should be a primary target.
It is an important highlight to adjust your e-commerce integration to suit their personal needs as the exhibited tendencies involve strong independent purchasing decisions, deep research, and their peers' opinions are more valuable than the words of a salesperson. And as every online customer, they expect and are more attracted to personalised experiences. If it is the case of non-decision-makers, they may still be more persuasive in their arguments to make their higher-ups take a positive decision with regards to what you have on offer.
Enhance your customer service and range of display
There are two bottlenecks with your brick-and-mortar outlets. The first being that your customer service representative looks up product availability on the enterprise resource planning (ERP) system which by itself may offer a non-friendly user interface. Therefore, productivity can be loosely attributed to some proficiency in the system. The second point of the matter is the limited range of products that can be displayed because of space and size restrictions.
An e-commerce platform aims to solve both these bottlenecks by providing an easy and accessible dashboard for the customer service representative (CSR) followed by the immense virtual space to view and research products at the customer's discretion.
A happy CSR directly influences the customer experience painting it in a more positive and effective way.
Taking off a load from sales representatives
The more friendly user interface benefits both your CSR and sales representatives. It stands only to increase their efficiency which in turn might bolster trading activities.
Another point to make is the opportunity of enabling your representatives with the ability to bring up the store on portable devices and execute a number of actions due to having saved some of their time: answering detailed customer questions, checking inventory availability, suggesting alternatives, discussing price options, and so on, overall improving the B2B customer experience, which may later be reflected in the bottom line.
In a sense, you are sending off paper catalogs and welcoming the power of Internet and electronic devices. With such a convenience surrounding your business, you benefit to pay more attention and allocate resources in a more efficient way.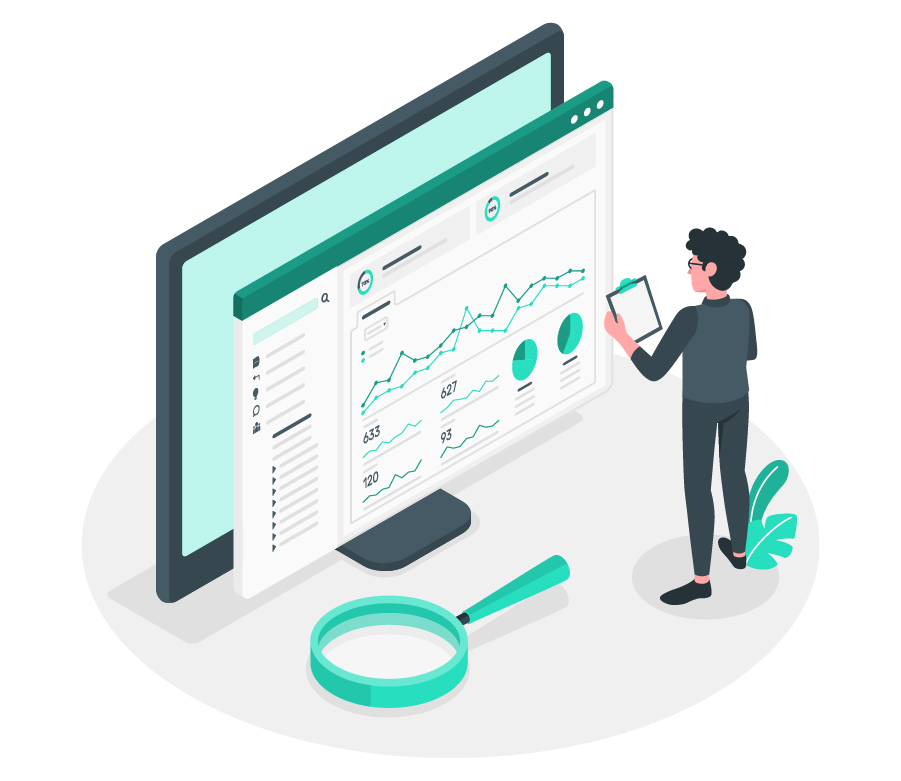 Analytics - a necessary wrench for a better understanding
Always trying to understand your B2B clients better is by no means a secret marketing strategy. Every venture strives to grasp what trending they notice and pursue to improve products and services on display with the end goal of raising profit.
An e-commerce store is a gateway of insight as various analytics technologies can be integrated, passive and active, without bothering the customer as a survey would. It's not reserved for on-page actions, but it is possible to understand how they accessed you in the first place. Thus, you can change your view on which marketing efforts are paying off and which require additional improvement.
More reach
We might be stating the obvious here but news flash a great deal of people shop online. Therefore a considerable segment of the market can be reached through an online portal. Consequently, the B2B e-commerce platform is one such gateway that will connect you to online buffs.
One more point to add is the insistent personality characteristic of performing exhaustive research and comparing products. As you exhibit your services online it makes it easier for customers to notice and research you.
An astonishing 89% of B2B researchers use the internet to conduct appropriate research work. That is why you should drive efforts home to make yourself appear for those busting researchers.
Additionally, Forrester claims that close to 30% of buyers make either half or more of their purchases online.
There is also the ROPO effect going on behind the curtains. As not all people execute online buys, your e-commerce platform will feed their Research Online, Purchase Offline persona.
Lower Costs
Now this is an appealing proposition, is it not? Lower Costs? Sign me up! Traditionally, B2B businesses are involved in managing endless streams of phone calls just to establish a reliable channel with key decision-makers of companies. More money is signed on enabling their salespeople to travel in the hopes of securing partners, clients, and deals.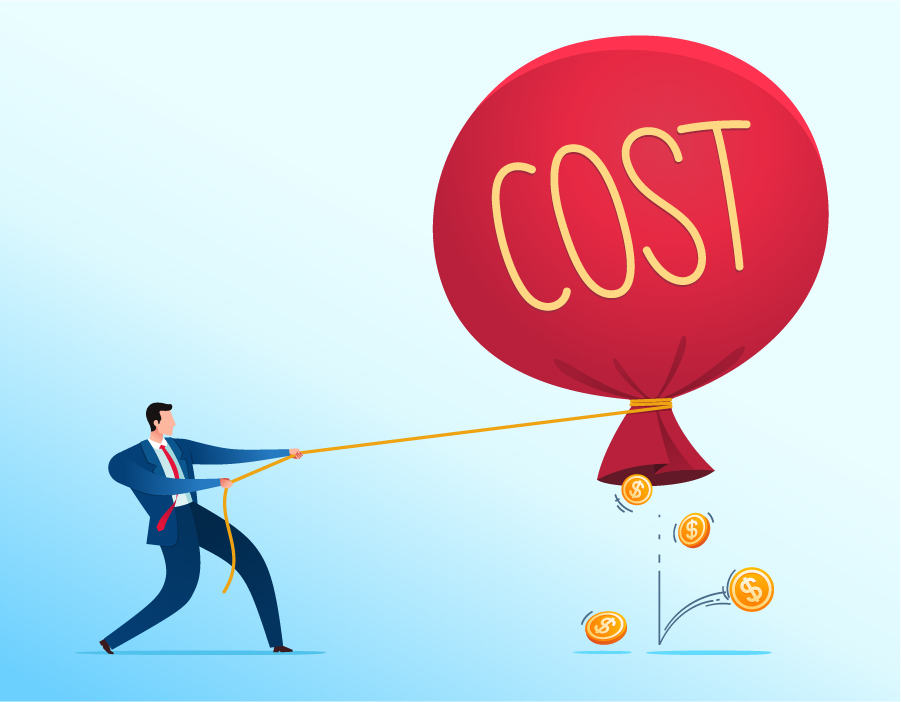 E-commerce site, simply put, lessens those costs. If your client is providing his online presence to you, it means you can close deals without requiring financial resources for leaving the office or countless demos. Having your e-commerce platform set up with features like chat support, click-to-call or AI chat works best in your favour. Interested parties can reach you in a matter of seconds at the behest of some keystrokes on their keyboard without incurring the expense of both sides.
B2B E-Commerce Disadvantages
Compelling advantages almost always offset what drawbacks might come when implementing new technologies. Nevertheless, we must peer and see to it that there are no underlying issues.
Desire for personal touch
As an e-commerce site does not facilitate meet up, for the better or for the worse, you are free to close deals without partaking in a handshake. While not a problem for many, especially with the required social distancing amidst the pandemic, some traditional businessmen see it as a rite of successfully closing a deal.
Possible fees
While your overall costs are seeing a downward trend, some surprise fees might knock on your customer's accounts due to how the payment system is set up. As the choice of implementation is wide, there is no possibility to pin down an exact number but the credit card and other fees could pile up and require an overview of services costs.
Lack of Flexibility
Some B2B businesses enjoy the loyalty of longtime customers who have special accounts and relationships. In such cases, they have special pricing, discounts or other benefits as a reward for their continuing support. Hence, the saying if it is not broken don't fix it comes into play here. Meddling with special customers like this for the sake of implementing an e-commerce site poses more risk than benefit. Therefore, some plan is in order to review how you should go about adjusting representatives to suit special clients and secure an e-commerce platform.
As the friendly B2B e-commerce monsoon permeates your surroundings and the tail breeze materializes a refreshing and invigorating opportunity to further expand your business, your stratagem lights the table but it feels yet incomplete. This is perfectly understandable since an e-commerce platform should be viewed as an extension, not as a standalone product. Therefore, customizing your extension and allowing it to integrate with other software you hold is a vital step towards extracting the most juice out of it.
Do not look past the friendly interfaces and colourful charts, you will witness pure data moving around. Most of it needs other pieces to become fully functional and serve any purpose in regards to observing a mathematical relationship.
So how exactly can you enrich your newly devised online presence addition?
In case you are already using a B2B intelligence platform, like Global Database, you are all set for the road ahead. The perks of combining it with your e-commerce gateway might not be apparent for the untrained eye, but experts will tell you otherwise.
Your clients should be aware of the big online opening that is going to take place. Naturally, you will reach out to them across all available channels and probably formulate a landing page to provide a warm welcome as their swift and curious clicks bring their browser. Seems fine till you trip into booby traps like deserted emails and wrong contacts which may translate to being flagged as spam. Curating your email list means appointing members of your team thus reducing the number of available resources at hand.
A frequent occurring problem is abandoned shop carts which implies the customer was not fully compelled to commit due to some circumstances in the buying process. Other than making the mechanism fully transparent and providing enough credible information, some off-site captivation is needed. An abandoned shopping cart is a perfect time for you to spell out a personalised email in an attempt to find out what has dissuaded the client from finishing his journey. You could go in wearing a blindfold, or proceed to personalise it based on an exhaustive company profile bringing in insights through a friendly easy-to-pick-up and plug&play UI.
Global Database updates contacts on a daily basis leaving little room for possible errors in mailing barren inboxes. Whatever changes occur to your contacts' details, you can rest assured that your database is filled to the brim and your message will arrive at the right destination. Moreover, you can easily upload a list of your collected emails, link them to corresponding names, and always have them on the update tap.
Sometimes data sets might be incomplete due to users not answering the full extent of the provided form fields. As such, you are crippled when deciding how to act upon entries like this since they do take space in your databases albeit incomplete. In less than a few clicks you can set up an entire list for a data enrichment process, which will fill up any existing empty fields and update old ones thus giving you the power to move on.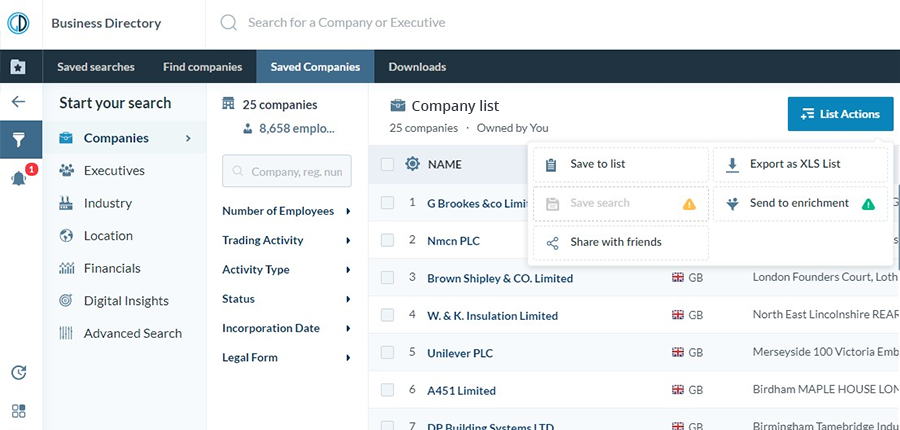 Due to users relying on vast amounts of research before committing to a purchase, you want to stay inquisitive about promoting your product in the best possible way. The initial version might escape some core functionality that your target audience is in need of. An advanced company intelligence platform, such as Global Database, will display whatever web technology powers your targets' engine, consequently, enabling you to have a technological pain point view at your disposal. Switching your offer and providing real solutions is no longer an arduous process laden with hours of meetings and weeks worth of information unrelated to your target.
To sum up
With the amount of money being poured into B2B e-commerce and the shifting buyer characteristics, it is unwise to ignore implementing such a platform for your business. The extended reach alone is worth more than the initial costs incurred, and as you move further down the line additional e-commerce technologies will be more appealing. However, no matter the charming song emerging from the siren's mouth, you should always remember that an e-commerce platform is an extension. Pairing it up with other tools and software is crucial if the goal is to drive profit, extract useful information, and forecast resolutions of business decisions.