Q: What is Due Diligence?
A: Due diligence is an investigation or audit of a potential investment or product to confirm all facts, such as reviewing all financial records, plus anything else deemed material.(c) Investopedia
It helps to evaluate a business opportunity and covers the comprehensive investigation into all aspects of a target company's operations, be it present, past or future. Though something of a grandiose term, Due Diligence actually just means using common sense to "do your homework".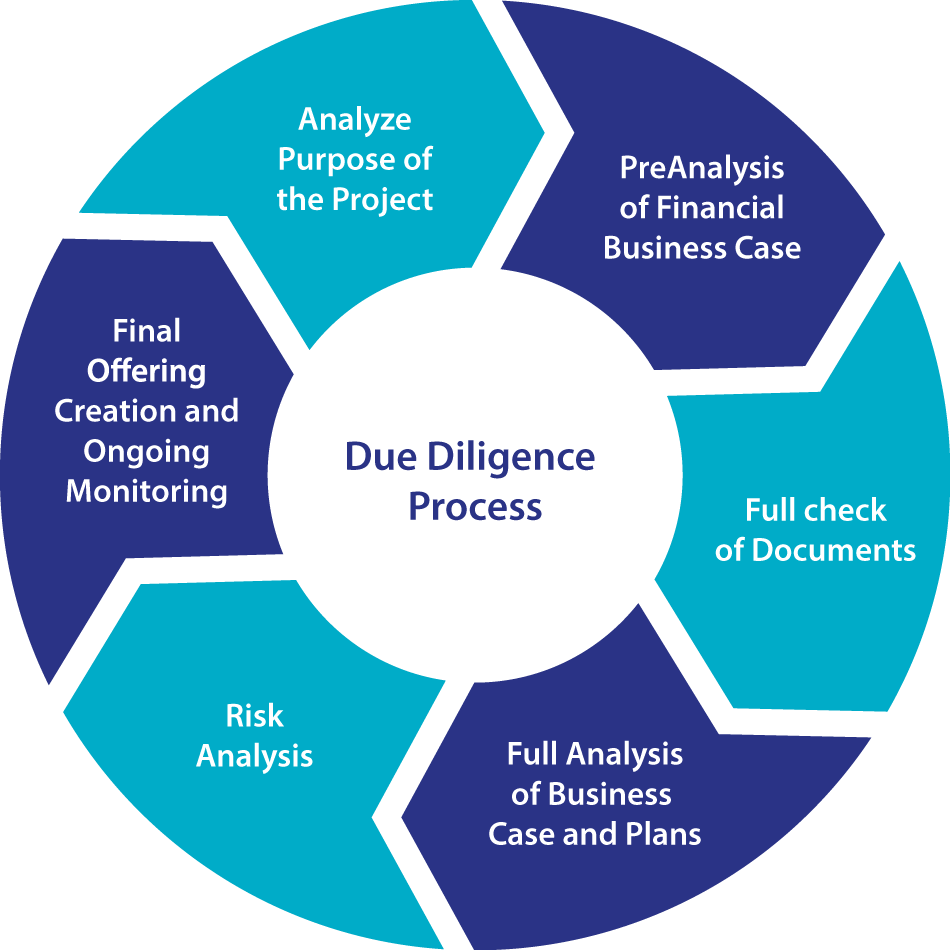 Image source: Ignitedwings
A: There are several reasons to undertake Due Diligence, the main ones being:
To make sure the target business is what it is claiming to be;

Preliminary determine the "bugs" in the prospect partner and avoid deal failure;

Gather useful information for evaluating assets, negotiating aspects of the deal, defining warranties etc.

Check that the transaction satisfies the acquisition or investment criteria.
Q: Who Can Perform Due Diligence?
A: Officially the requirement to conduct due diligence applies to investors, corporate developers, accountants, investment bankers, attorneys, loan officers and other specialists that are involved in transactions. However, in reality every business can benefit from undertaking some level of company intelligence checks, regardless of whether you're a startup CEO or top manager of a major company. Just ensure that you support your staff with expertise and information only superiors can provide during the due diligence period.
Q: When is Due Diligence Performed?
A: The process of collecting and evaluating the data lasts as long as the negotiations are being held; from the moment a business opportunity appears until the conclusion of a deal. You should do your homework and perform initial Due Diligence before you even start to develop your idea into something real, in order to ensure you're not throwing time and money away on a wrong choice.
A comprehensive Due Diligence check is usually undertaken after the parties have reached a preliminary understanding but before the signing of the restraining contract. An overall Due Diligence report can help to draw up a profitable deal and to reasonably refuse the conditions imposed by the other party.
Q: How to Conduct Due Diligence?
A: Firstly you'll have to create a checklist of the information needed and transfer it to the target company. Be careful to ask only for the information that it's ethical to request, in order to not offend the target company. Carefully review all the business plans, financial statements and other documents.
Bear in mind, however, that this research shouldn't be limited to the info provided by your prospect partner -you have to dig by yourself alongside it. External sources, like Global Database's business directory, could be of use in this mission. It's also important to involve suppliers, customers, market research companies, industry experts, and trade organisations in your research to obtain overall results.
Q: What Should a Due Diligence questionnaire look like?
A: Let's imagine you're going to buy a competitor's business which is perfectly positioned in the area that is hard to reach for your company. Here are the questions you should get answers for before the purchase:
Is the business cash flow healthy and steady?

Is it understood from the books where the revenue flow is coming from?

What multiple of the revenue is the business placing on those earnings and how reliable are its financial projections?

Are profits decreasing or increasing?

What is the market size for this particular service or product? Is it going up, down, or is it stagnant?

Do any big competitors that could affect earnings, exist on the local market or plan to enter it?

How does the prospect business' online presence compare to the competitors'?

Are the company's physical assets (if any) evaluated fairly?

Are there any latent obligations?

Is the package of company documents fully staffed?

Are the business' taxes in order and fully paid at the time of planning the purchase?

Does the prospect business rent property? If so, when does the rent term end?

Is the insurance information provided and what does the insurance cover?

Are the employee files (including benefits and salary) complete?
Q: What is Hard Due Diligence?
A: Hard Due Diligence is a colloquial determination of studying costs, structures, liabilities, assets, benefits, etc., that are performed by the acquiring firm risk analysts. In other words, it is an in-depth analysis of the business planned to be acquired.
Q: How to Perform Hard Due Diligence?
A: Normally hard Due Diligence is focused on the following factors:
Earnings before interest;

Depreciation and amortization;

Cash flow and capital expenditures;

Intellectual property and physical capital;

Financial statements;

Target's projections about future performance;

Consumer market analysis;

Subcontractors and other third-party services;

Antitrust consideration;

Disclosure schedule.
Q: What is Soft Due Diligence?
A: Soft Due Diligence covers mostly the human element, that can't be expressed in numbers. Driven by mathematics and legalities, hard due diligence is often misinterpreted by eager salespeople. Soft due diligence operates as a counterbalance when the numbers are being overemphasised or manipulated. It covers employee relationships, corporate culture and leadership - the drivers of business success that numbers cannot fully capture.
Q: How to Perform Soft Due Diligence?
A: There are no exact rules for performing Soft Due Diligence. You can either include it as an official stage of preparations or treat it much less formally. But the central concept remains the same: the soft due diligence process has to get the picture of how well a targeted workforce will fit into the acquiring company's culture. If there are some concerns, this is a sign to look for compromise, which includes personnel decisions, for the comfort of both parties.
The compensation/incentives programs are one of the few areas where soft and hard due diligence work together. Look at the compensation packages. Besides the real numbers, processed by the hard due diligence, these packages take into consideration employee motivations - the soft due diligence field.
The target company's factors are another focus of the soft due diligence process. It's important to know how they will perceive the change in product, service, procedures or even names.
So, these are the factors soft due diligence should involve:
Target company culture

Employee motivations

Target company's customers

Q: How Much Due Diligence to Do?
A: No one can give a precise answer to this question, though let us provide some criteria for you to be able to estimate the amount of forthcoming work independently:
- Prior experiences with the prospect or similar companies;
- Size of the transaction;
- The probability of closing the deal;
- Time limitations;
- Cost factors;
- Resource availability;
- Tolerance for risk.
Remember, it's impossible to learn everything about the company, but it is necessary to learn enough. Thus you can decrease your risks to a suitable level and make competent, well-informed and weighted business decisions.
Q: Is it Possible to Exaggerate My Due Diligence Attempts?
A: Be careful with the amount of Due Diligence you perform. Too much of it can be offensive to the targeted company and perceived as a sign of huge mistrust. This can cause negative effects and even the cancellation of the deal.
Being a time-consuming process, a protracted due diligence audit could prevent you from noticing a better competing offer or completing the deal.
This means that Due Diligence has to be arranged according to the current priorities and be made quickly. A sensible level of trust is expected from you to balance the serious verification and investigation of the important issues.
Q: Can I do my Due Diligence Quickly?
A: Yes, you can, but only if the situation allows. This can happen when the level of trust for your future partner is high enough, for example, your experience with the company is very positive, or the matter doesn't require detailed research. Anyway, however serious the case is, the Due Diligence company check has to be performed in adequate time according to the ordinarily tight schedule for the closing of a deal.
Q: How to Prioritise Tasks During the Due Diligence Process?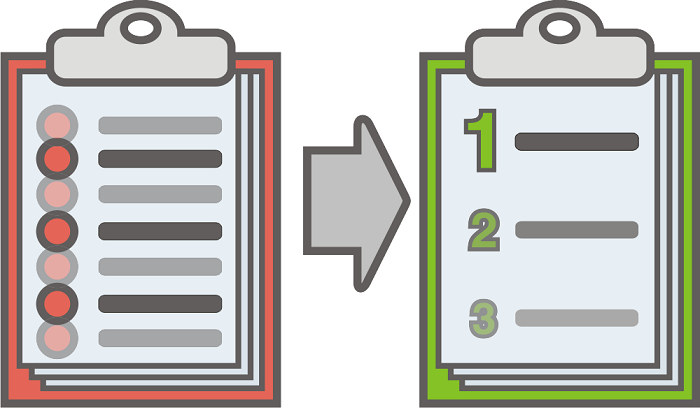 Image source: I Will Do This Today
A: It's up to the circumstances of the particular transaction. Let's say, your primary reason for acquiring a business is to get access to the new product the team is developing. Let's look at 2 examples:
This product will speed up your time of entering the market. In this case, the highest priority tasks are the following: make sure that the product is almost ready and there are no significant impediments to completion; get the guarantee that the end product will satisfy your business goals.

You have some legal concerns and know in advance that the team is unreliable and may have to return the money in accordance with a court order. The highest priority here is to ensure that a major lawsuit is going to be resolved to your satisfaction.

Q: Who Pays for Due Diligence? How Much Does It Cost?
A: The purpose and duration of the Due Diligence process, which is dependent on the complexity of the target business, are the 2 factors that define the cost. These expenses are normally taken as essential. Qualitative, professionally conducted Due Diligence brings real benefits, decreases risks of failure and fully justifies its cost. The expenses are born by the parties following the preliminary agreement.
Q: Does Due Diligence Guarantee That the Deal Will be Successful?
A: A well-prepared business Due Diligence check can't 100% ensure the success of the transaction, but it definitely increases the chances and eliminates a great amount of risks.
On the other hand, it's much more likely for you to fail the deal or make the wrong choice of a partner by not going through Due Diligence.
Q: How do You Keep Things Confidential During a Due Diligence Engagement?
A: Usually transactions require confidentiality, but it can be breached by some actions during the due diligence process. When you contact a customer of the target business to learn if they're satisfied with the products from the respective company, this can cause a rumour that the business is for sale. To avoid this happening you'd better introduce yourself to the customers as an industry analyst, journalist or a prospective client.