All the things that surround us are developing. Some resources are growing, others become more and more scarce. Keeping up with the pace of events gets harder, and the world is changing to a data-driven one. Although at a first glance it might seem that among the domains that stay unchanged you'd find human resources, this would be an inaccurate idea. HR analytics use is gaining its well-deserved alignment with other domains, but it is yet hard to exploit at max if there are no business intelligence tools at hand. In this article, we identified some of the important human resources trends to put an emphasis on in 2019, and explained how business intelligence and analytics can help HR.

Important HR trends in 2019
Things are developing too fast. Few manage to follow the permanently renovating technologies and can call themselves truly tech-savvy. Therefore, their number continuously decreases, making it more and more difficult to find an unemployed professional. You can oftentimes see plenty of 'head hunters' on social media, following threads, polls, forums, and posts to identify among the people engaging those who are worthy and available to work. Oftentimes, the task of looking for skilled employees is transferred to HR companies, even by businesses that do have an HR department.
If earlier companies could dictate the rules, now the talent gap has the employees become more demanding, switching the human resources departments' focus from simply finding new talents to satisfying the needs of current employees, while staying competitive from the working conditions point of view.
The awareness about a company's propensity to invest in its employees, and support them in their development and personal growth, may pretty soon establish its positive reputation, therefore attracting highly-skilled workforce. In such a way, investing in the education of a group of people or in other directions of interest thereof, the employer gains much more than a professional team, and even has to make less effort in time to attract new experts. A win for both parties.
Based on these considerations and human resources analytics in various sources, some of the important HR trends for 2019 were identified. We at Global Database decided to underline several of them and then show the need for business intelligence and analytics for HR.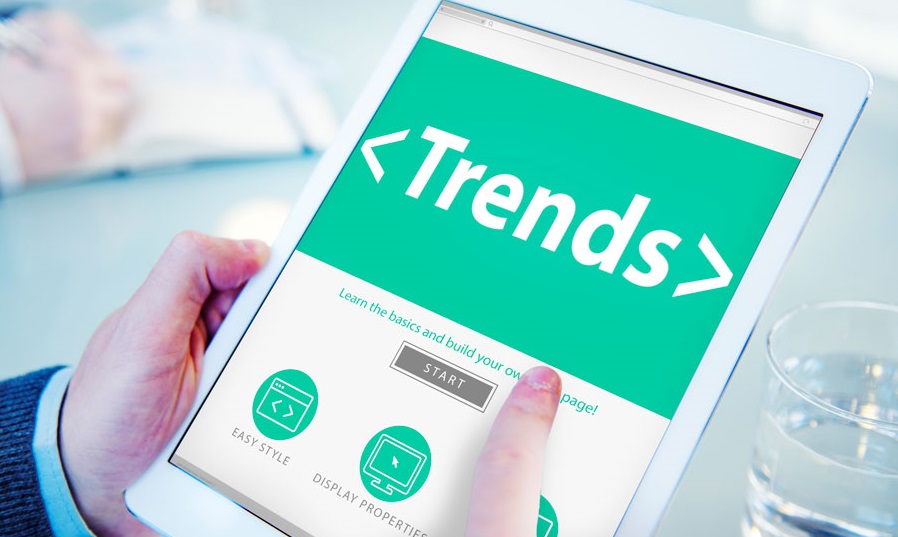 1. Trust
There is nothing more important than trust, and namely the trust of employees for their management. As long as the staff trusts its leaders, regardless of the latters' level of hierarchy, they tend to feel secure, and are more likely to keep working for the company. Given the insufficiency of high-skilled employees and professionals, losing that trust may be crucial for the company. According to EY's Trust in the Workplace survey, globally about 49% employees trust their employer, boss and team. In comparison to that average, in the UK 33% of respondents trust their employer, 42% report a great deal of trust in boss, and 44% trust their colleagues or team. Thusly, one trend for HR 2019 is gaining and maintaining the trust of employees.

2. Happiness for a better engagement
Investing in 'employee happiness' is somewhat related to the well-known concept of employee engagement. The happiness of staff can be achieved in various ways, depending on the country, culture, economic situation and many more. However, the most important ones concern job security, financial stability of the company, work-life balance, two-way relationships with superiors and colleagues, and development. According to the results of a poll ran by Gallup, 87% of millennials consider development as crucial part of the jobs they take. Working on the above mentioned issues, will help your employees feel better when working for you. However, do not forget that due to the expansion of national and cultural diversity of people working under one roof for the same company, it may be easier to keep employee engagement, rather than maintain high levels of 'employee happiness'. The key approach here is to concentrate around the needs of the employee, not about elaborating strategies that would make the manager or the CEO happy.

3. Mutual education
One of the most interesting HR approaches for 2019 may be modifying the usual top-down recruiting approach. This means, that besides setting up the requirements for the candidates, or in other words asking what the hiring company wants these people to know, they should also ask themselves what is it that they can and will learn from the new employees.

4. HR analytics
A more recent one, that would be expected to grow its importance is HR analytics. Historically, human resource have collected data, however it has not been much put into use. As relying on gut feeling is anything but a good practice, business intelligence and analytics for HR are on the rise and HR is becoming more data driven. Hence, the possibility to make HR decisions on a strategic level. A HR data analysis example would be evaluating employee engagement according to human resource data from surveys, and combined with the financial performance information it brings in the possibility of estimating the influence of the former on the latter. Monitoring this indicator over time will give you specific insights of the impact of employee engagement on the financial performance, and a good tool of business intelligence and analytics for HR.
All of the above are valid for all kinds of businesses, including HR companies. The latters oftentimes perform HR analytics as a service, and can help the hiring businesses to keep track and follow the important 2019 HR trends.
​[[form]]​
Implementing BI in HR companies' strategies

According to Forbes, studies have shown that HR companies that see themselves as business entities specialised in HR are the only ones who have real chances to succeed, rather then the ones who present themselves as simple business advisors. But we don't think that this is the only key to success.
Obviously, human effort is still needed to overview the performance and assess the results of HR data analytics. However, there are more and more tools for business intelligence and analytics for HR that would ease the task of processing big data to make data-driven HR decisions at a strategic level for the company.
To show how business intelligence and analytics can help HR, we list below a few examples. The filters and applicability are based on Global Database company directory and its functionality.

Case 1. Entering a new market
When a HR company is willing to enter a new market, e.g. expand to a new country, a thorough market analysis should be made. Having a business intelligence platform at hand should considerably ease the task. All you'd need to do is apply filters such as location and industry, and you'd have the list of competitors in seconds. Without that data, the research of finding all the HR companies operating on the given market might take days and even weeks. Opportunity costs considered, by that time you could already have been building your strategy of entering this market.
Atop of that, you could filter out the companies that you expect to be willing to become your future business partners and start an email campaign right away presenting why you are the HR company they might have been looking for. This is also possible due to the fact that a company directory, such as Global Database, provides direct contacts of decision makers, increasing your chances to get a deal, as you will simply avoid the gatekeepers.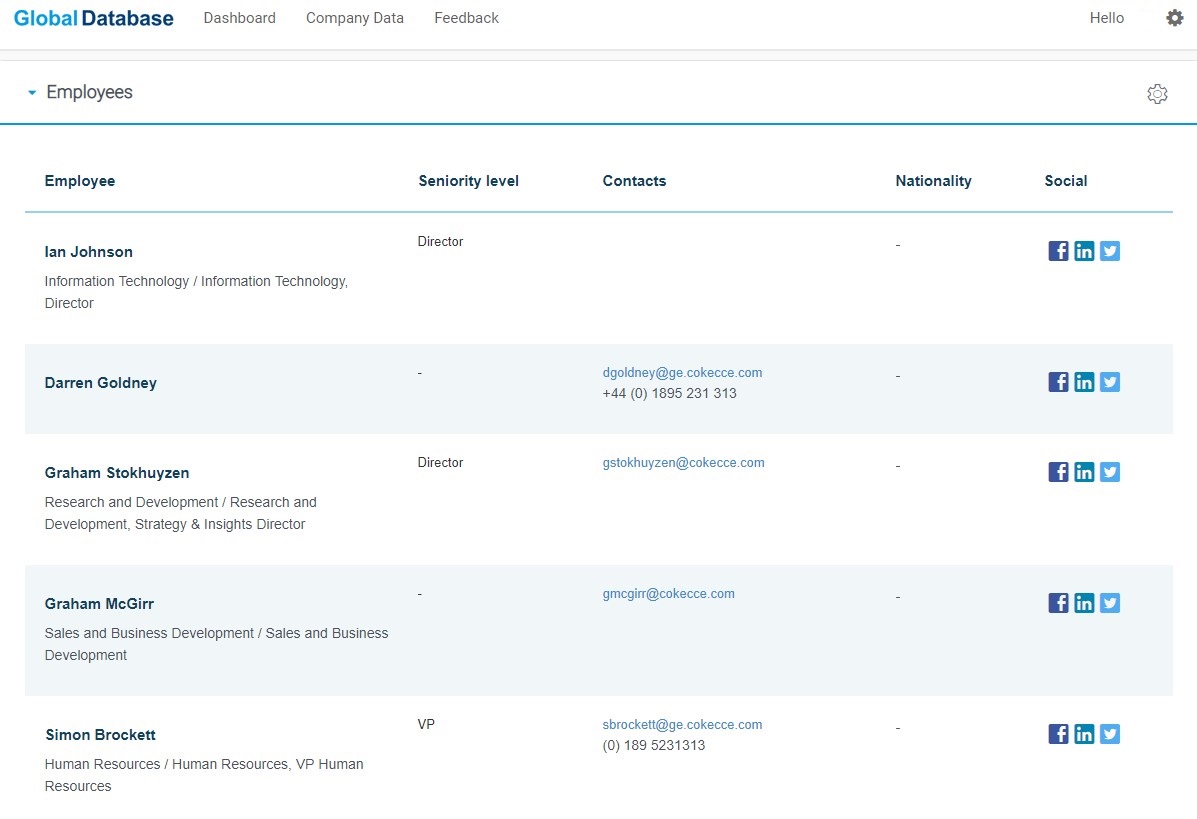 Case 2. Discovering new clients or business partners
When using a business intelligence platform you get a wide variety of companies at hand. If you have your customer audience figured out and know who you are looking for, just filter them out and start contacting them right away. This is applicable for the HR companies looking forward to growing their portfolio and helping out new clients to figure out the best ways of managing their human resources.

Case 3. HR companies acting as an intermediary
It is no secret that many businesses outsource certain tasks to others that are specialized in accomplishing these types of tasks. When the search of specialized companies is transferred to a HR intermediary company, the latter is assigned to find corresponding results asap. One of the most efficient solutions in this case would be simply filtering out businesses that have the sought activity, and then selecting the most suitable candidates.

Case 4. Educational purposes
HR companies can also follow educational goals. With a data directory, you can find businesses that are specialized in providing one type of service, and offer them a training that would either upgrade the skills, or offer basic knowledge about complementary goods or services, that would overall aim at improving the performance of the team and the company. E.g, you can look for companies that build applications in a certain programming language, and find and offer training of another programming language, intended to diversify their activity.

Case 5. Human capital due diligence
Business intelligence platforms provide basic, yet very important information for the performance of M&A human capital due diligence. You can find and filter companies by various indicators, including financial, administrative and other, that would help for HR data analytics and various human resources-related risks identification prior to closing an M&A deal.
To sum up…
Not only does HR gain an increased importance over the last years, but it is also developing as a domain that can be backed-up by data and analytics, and can have a great contribution to data-driven decisions at a strategic level for any company. Business intelligence company data platforms ease the task and help to accelerate the performance and use of HR data analytics by offering a wide variety of company and employee information at short notice.