Today is all about people, time and money. While setting employees' safety as their first concern, companies have to strive to keep their activity and sales afloat. Businesses are cutting costs, some more rationally than others. Many have to opt for certain projects over less promising ones leaving them behind for some time or for good. Considering the uncertainties that could unfold, it may get extremely hard to understand what should be a priority and what should come as a second option. This is what today's article is about - understanding the costs of the decisions you take today.
Opportunity costs: a brief 101
Opportunity cost is not a phrase you hear often, see it make headlines or find it in financial reports. Yet it's paramount to how we perceive the vast amount of choices we face. Going by the book, opportunity cost infers on the underlying price of choosing over the next-best alternative.
We all either seek or offer value, be it in our professional or personal lives. Yet subjectively we perceive it in various ways, and that is why we make different choices even in similar situations. This reality derives from its two components, namely cost and benefit. While both sound easy to assess, not all can be expressed in monetary value, hence the individuality of each outcome. For outstanding results, we choose the option that generates the greatest benefit at the lowest cost. The second best possible result, one that we have given up on, is the opportunity cost undertaken.
We live in a finite world. Consequently, the amount of resources available to us dissipates as it is continuously used. The scarcity of commodities and the choice of how to use them most efficiently are essential key concepts within economics. Opportunity cost serves to remind us of exploring reasonable alternatives before proceeding on pushing the 'start' button.
Opportunity cost is given by the gains a party refrains from by opting for one thing or action over the best available alternative. By definition, oftentimes this type of cost cannot be accurately calculated, as not all elements are subject to estimates or can be overlooked with ease. Understanding the potential difference allows for better decision-making.
If you are dealing with numbers, it is a matter of simple subtraction. Deduct the return on the chosen option from the return on the best alternative (forgone benefit), and you get the opportunity cost. Even if the alternatives are mutually exclusive, the notion refers only to the highest value option. For instance, the opportunity cost of building a house on a piece of land is the loss of income that could have been generated from a sports centre, supermarket, parking lot or from selling it, whichever is the greatest - the one that generates the maximum difference between benefits and expenses.
If the definitions so far have not been enough, just remember that opportunity cost is heavily tied to the concept of trade-off. Lacking omnipresence, humans cannot be in two different places at the same time. Hence, the need to make a choice.
Company intelligence vs opportunity cost of time and human resources
With or without the currently unfolding events, time and human resources are among the most costly as well as precious ones. According to Yesware, in 2020 the most common cause for sales opportunities falling apart is budget, and multiple companies cutting down spendings, especially marketing-related ones, is not a secret. Therefore, poor choices of talent-day allocation may have a negative impact on the results of your sales & marketing departments and your business' bottom line, affect the deadlines of the projects' delivery or even worse than that - result in the loss of some great opportunities.
Reaching the right people
Have you ever felt the bitterness of putting a lot of effort into award-worthy-highly-personalised email homework ready to win the hearts of the key people in your targeted company, only to discover that the email address you sent it to does not exist any more? Or worse, sending your email to a person and getting frustrated by an answer from someone else notifying you that who you were trying to reach out to does not work there any more or has been advanced to a different post?
Accurate email addresses is something you get from a trustworthy business data provider. What is it you would choose: time spent in vain on writing newsletters or cold emails that are lost on the internet because of incorrect or obsolete data, or being sure that your message is delivered every time?
No missed targets
It is no secret, that during the pandemic most of the office phone numbers are unavailable, as people are working from their homes. In that case, it may become quite frustrating to spend time preparing for a call, and not getting the chance to reach the person you've so been looking forward to talking to. Besides, it may take a while until you find an alternative way to deliver your message.
A company directory brings you the luxury of having that information listed all in one place. In this case, the approximate opportunity cost can be determined, to help you make the choice between a) time spent on looking up contact data of target companies and right people or on calling wrong numbers when using outdated information and b) subscription to a B2B company directory. This opportunity cost may be not too hard to estimate with a usual working environment. But today, considering these anything but usual circumstances, the access to up-to-the-minute data may prove to be crucial.
Readiness for each call
The better you are prepared for the next email, call or demo, the higher the chances of converting the client and closing the deal. But the trade-off between a good preparedness and a just-in-case homework is the time spent. One can make more calls or send more emails hoping that it may work the way it is, or contact fewer representatives with a higher-quality message. A sales agent may find himself/herself spend quite some time by looking up news, updates, identifying fresh ways of presenting the product or solution sold, or all this may be prepared by another assigned team member. Anyway, thorough research usually requires skills and hours.
What if that all could be saved by resuming the whole process to making a few clicks while looking up the full profiles of the right people of the company you are targeting, data that is available with a solid business directory? In a matter of seconds, you have the information you need in hand.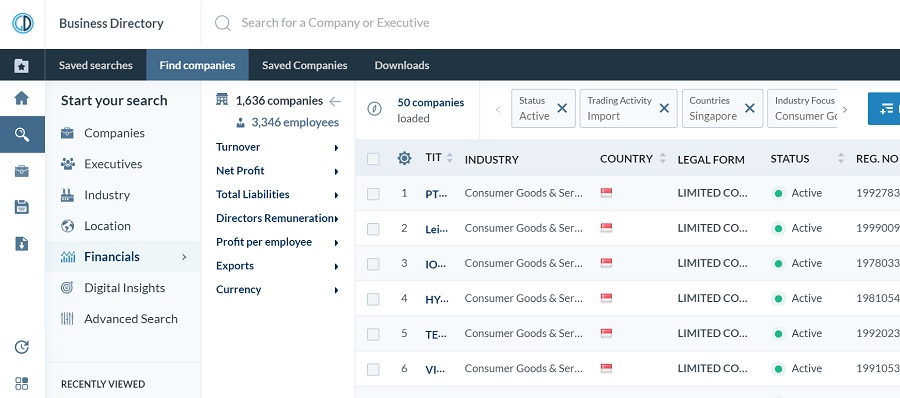 According to HubSpot, in 2020 message personalisation has set base as the #1 tactic used by email marketers to increase engagement rates. The preparedness for a call follows quite the same vector. Having access to full profiles of the key decision-makers, the salesperson does not need to waste time on looking up data, but prepares for the call and makes it. Hence more demos, a higher degree of personalisation, improved results, and resources saved.
Pitch-perfect sales pitch
No sales pitch can be perfect for every single company you are targeting. Each business has needs, and some have pain points. Especially now during these truly challenging times, you have to show your awareness as well as understanding, and even if you don't manage to close the deal right away, every message that you deliver proving your empathy will definitely be remembered.
With a trustworthy business directory, the sales rep can review the comprehensive company up-to-the-minute profile to faster identify the main pain points and easily adjust the sales pitch accordingly. Hence more conversions on cold calls as well as moves down the pipeline.
Opportunity cost was once explained by Robert Frost as the road not taken. In this very case, it may be the perfect definition of the concept, as it would be almost impossible to estimate the value of the missed conversions due to a non-adjusted sales pitch.
Support in facing challenges
Has the pandemic affected your supply chain? Are any of your stakeholders having a hard time during the lockdown? Businesses are coping in different ways and various steps are undertaken in order to survive the crisis. However, it is hard to be truly 100% assured that all of your processes will keep running smoothly. If an unexpected event does cross your way, you'll have to react fast.
B2B data directories are the support that would help you identify possible replacements in no time. Use the filters to segment out the companies that might become your new business partners and who you can be of mutual help to during these challenging times. Choose by vertical, type of activity and any other relevant criteria. In this case, you'd have to compare the opportunity cost of acquiring access to accurate company data versus slowing down your activity or even missing important deadlines.
Efficiency of meetings
Have you had that feeling, especially during the lockdown, that you are spending your entire day in meetings while deciding who should do or should have done what, and by the end of the day you have no time to actually execute the tasks discussed? If you have, we can totally relate. Hence the question - how can meetings be run more efficiently? One of the ways to achieve that is to end each encounter with a solution or concrete results. Assuming that it is quite clear what matters will be subject to review, a business intelligence platform would save you and your company days of work.
For example, let's suppose that due to the pandemic, one of your main suppliers is temporarily out of business. Having this information, you immediately foresee that it will become the subject of the next meeting. Instead of going to that meeting to discuss where, how and what your company should be looking for, you can access a business intelligence platform, select in a matter of a few clicks the type of businesses you'd be looking into, be it by vertical, location, size and any other criteria, but most importantly - their status. Today, knowing for sure whether a company is active or not may become crucial. Therefore, you can save your company dozens of working hours, that may now be spent on contacting these potential suppliers and keeping your activity as smooth as possible.
In the simple yet abreast of the times example provided, it may be quite easy to calculate the opportunity cost of the choice on whether to use a B2B company directory or not. Coming up with immediate solutions in crisis circumstances will help your company cope with the situation as well as influence your own reputation on the long-run, and may serve as an example for both colleagues and other businesses. This method would definitely change the approach to the routine meetings as well as will improve morale beyond Zoom.
New audiences
It is never a bad time to look into new opportunities by trying to find and understand new target audiences. The current pandemic is not going to destroy us. So cold calling or emailing will not stop bringing results if you know how to sell in crisis. Regardless of your reasons, a B2B company directory may help you find all the information you need to reach a different target audience fast. Use the advanced filtering to cherry-pick lists of potential B2B customers by location, size, type of activity or vertical, and get the chance to also take a peek into at least 5-year financial data to easier understand their reliability. Yet again, your opportunity cost will depend on the urgency you have in mind, hence comparing the potential benefits with the opportunities forgone to acquire access to a business directory.
To sum up...
These are just a few of the cases when you should consider the opportunity cost of using a company intelligence platform. In case you decide that the latter would bring you the most value, you should also consider the fact that the benefits you receive vary from one directory to another. The value of the chosen option has to exceed the value of the rejected one. Therefore, before taking a decision, you should analyse the available options out there and choose the right data provider for you and your business.