In this series of case studies of our customer success stories, Universal Robots is a not-to-miss one. Not only do we pride ourselves on the chance to have Universal Robots among our clients, but also on the results we helped each other to achieve. Read on to discover both our contribution and client's results brought by this collaboration.

Universal Robots - dedicated to bringing safe and easy-to-use robotic arms to businesses of every size
The idea of creating Universal Robots appeared about 15 years ago, when their founders discovered room for improvement of the robots available on the market at that point in time. There was a growing need for lighter, user-friendlier, easier to program and exploit, as well as cheaper robots. Two years later, Universal Robots were established, aiming at making robot technology affordable and thusly reachable for small and medium businesses. They have continuously been growing ever since. Today, they've expanded their presence almost worldwide via their network. They have sold over 34,000 collaborative robots (cobots) used in thousands of production environments all around the world on a daily basis.
The main goals followed by Universal Robots are to help businesses become more competitive and increase their productivity by addressing clients' labor needs at their core. Collaborative robots, on the one hand, are designed to relieve manufacturers by offering them the possibilities provided by advanced robotic automation. On the other hand, cobots are intended to work with humans side by side automating the manufacturing and working processes to a new level, while being safe, cost-effective and flexible to deploy.
All the types of cobots Universal Robots have on tap are built with future in mind. This means that these are designed in a way to develop and grow in capability together with the businesses that apply them in the working process. The list of types of add-ons that can be used with cobots is huge, and they are also equipped with intuitive programming, making them the perfect solution for a wide range of purposes and functions for businesses from an open variety of fields.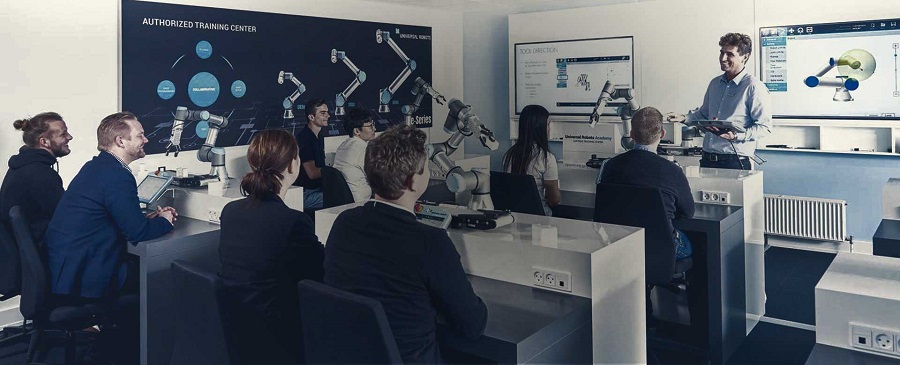 Adding even more value to their products, Universal Robots provide education opportunities, with the goal of 'lowering barriers to automation, empowering ease of use' and expanding understanding of cobots and their usance. With Universal Robots Academy, applicants may learn to easier handle cobots by getting core as well as advanced programming skills regardless of their prior education, knowledge and background. This training helps to obtain faster and better results of the cobots' usage while also allowing clients' employees to better understand and fuller exploit the benefits of advanced robotic automation.
Universal Robots benefit of Global Database Bespoke Data Research
Many people think that robotics imply expenses, long and troublesome installation and set-up, difficult programming, highly-skilled employees, shielded work cells and other challenges. This especially regards small and medium businesses, which are more likely to consider that robotic automation is not affordable in their case.
This is one of the cases when educational campaigns are of great use alongside with promotional ones. With that in mind, Universal Robots representatives contacted us. After a few calls with our reps, we agreed that bespoke data research will suit our client's needs best.



In its essence, Global Database Bespoke Data Research is what helps users feel the power of holding the information they need. This solution represents a custom research aimed at finding the specifically required information. The business or any other entity benefitting of it becomes the holder of unique, precise, relevant and freshest information available.
Bespoke Data Research is performed by the Global Database employees, who dig the internet, make necessary phone calls, access specific databases and perform all other legal actions required to achieve the goal and get hold of the data demanded by the client. Focused on the task, the team applies years-long expertise and collects results with the speed of light. In such a way, the users benefitting of Bespoke Data Research save time and lots of other resources, overall optimizing the usage thereof.
The research can be based on an existing list, if the client needs to enrich their data with a certain type of information. It can also have the form of a market analysis, tailored to the conditions negotiated between the parties. Thusly, Global Database and Universal Robots came to the agreement that it is Bespoke Data Research that would be of the highest value to the latter.
The highly-tailored data research performed by Global Database for Universal Robots had a turnaround time of just 4 weeks. The results were stunning. In this short period, Universal Robots received comprehensive data on more than 100,000 contacts. On top of that, an outstanding email delivery rate was recorded, and namely 98%! A figure to be genuinely proud of.
To sum up…
As leaders in robotic automation and a company that helps to solve labor shortages, Universal Robots made the smart decision to save resources when in need of a B2B data directory. Choosing to apply to Global Database business intelligence platform, Universal Robots benefitted of bespoke data research and managed to achieve truly enviable results.