WeRtranslations is a UK-based specialised translation services company, helping enterprises from all around the world to bring their performance to the next level by positioning their businesses in international markets. Although a relatively young business - founded in 2017 - weRtranslations have managed to build a strong network of experienced translators, who are there to professionally translate a wide range of types of documents and texts into their mother tongue or any other language.
In providing high-quality translation services, they guide themselves by the Translator's Code of Ethics to which they adhere. Besides, in working with certified and experienced linguists, they are the standard-bearer of the following values:
Confidentiality, which means that under no circumstances would weRtranslations share any of their clients' documents with third parties. As per their promise, they assure privacy and confidentiality of all the information delivered.
Accountability, by making any kind of corrections and amendments even after the delivery of projects, if the clients so require, and all feedback is accounted for and used for ongoing improvement and further polish of the services provided.
Accuracy, being assured by the fact that weRtranslations hire native speakers only to translate into their mother tongue. This tactic helps to deliver an outcome that maintains both style and meaning of each original document while keeping a corresponding professional tone to it.
weRtranslations team's hard work in delivering superior quality services to their clients does not take long to pay off. They get some of the most positive feedback they can pride themselves in, customers stating among all else that weRtranslations does not only have a fantastic product and service, but also a dedicated work ethic and that they go above and beyond to exceed expectations. The business that weRtranslations have grown from scratch is described by some customers as 'going from strength to strength, delivering results in all markets.'
Seeking accurate data to actualise groundbreaking ideas
In their own pursuit of new ideas for their business development to new levels, weRtranslations' team came up with some fresh ideas, which were an interesting approach to the prospecting and onboarding process. However, once they have started their search of certain types of companies, they ran into obstruction of the work process due to a lack of accurate or relevant data. Luckily, they found out about Global Database and reached out to us to find immediate solutions to the following issues:
Inability to identify companies that are built on a specific CMS. Bearing in mind the available possibilities and tools to facilitate uploading and displaying translated variations of different web pages, weRtranslations were looking for companies that use a certain content management system for the latter's websites. Combining the latest available features with high-quality and fast translations would bring the addressed clients the edge, and this was the basis for weRtranslations' USP.
Difficulty in finding companies that have multilingual websites. weRtransfers' team faced the issue of long manual research time. Had they started to accomplish the task on their own, they would have to manually lookup business websites and pick the ones that had a multilingual version and met a series of other criteria. At the very first glance it is obvious, that this kind of task would result in an unreasonable amount of resources spent, and weRtranslations started to look for alternatives to manual search right away.
Lack of direct corporate contacts available in a certain market in Europe. Although reducing the number of companies to be searched to a certain region, especially in Europe, might seem to be a means to ease the task, this is actually something that makes it more difficult, as it would be another criteria for looking up companies, used simoultaneously. If that search would be done manually, the research team would have to look up multilingual website owners which are also registered in the UK.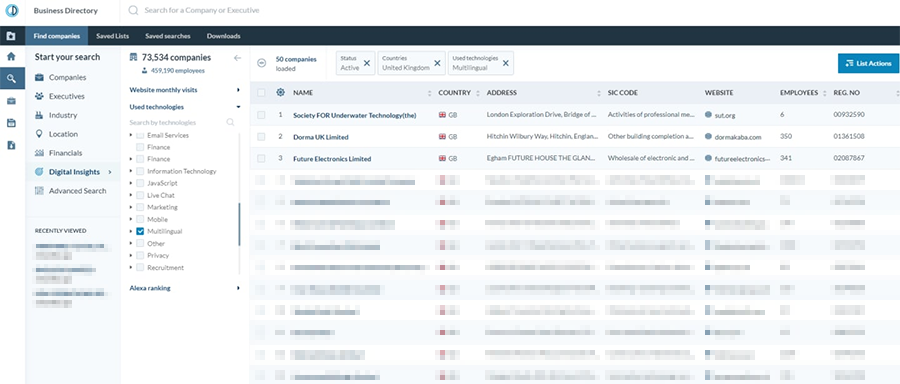 Luckily, our global companies platform and the features it offers to all our clients and partners was the perfect solution for weRtranslations' needs. Here is what we came up with:
Access to the regional company database. Regardless of the type of companies a client is looking for, the lack of knowledge of the total number of companies on a regional market could be compared to trying to find every fish within a square kilometer of an ocean: there is always more every time one goes deeper. Getting access to a database of companies, already segmented to the regional market, facilitates the search as well as gives a proper image of the respective market, as well as of its addressable share. We never provide our clients with packages or bundles of solutions that they do not need. If a client requires data on businesses from a certain region, industry or a combination thereof, this is exactly what they get.
Access to technology-based filters. No matter how many criteria does a company have to meet to suit a profile required by the client, they all can be applied as a matter of a few clicks in our businesses directory. Our platform features over 80 various filters based on a plethora of relevant data points. Furthermore, there is no limit to the number of filters applied during a search. Be it reducing the number of displayed results to a region or industry, or applying simultaneously tens of filters to narrow down the results to just a few yet very important companies, it is all easily possible with Global Database. The filters are not just very straightforward to use. We built our solution in a way that no matter how many filters are applied, these are accounted for immediately and results are displayed in real time. Hence, the time and effort spent on identifying and segmenting the needed companies is truly reduced to seconds and a few clicks.
Manual custom data enrichment performed on a monthly basis, each time with a different kind of request. Our custom data enrichment solution offers a wide range of possibilities all resulting in obtaining unobtainable data for our clients. The latter can inquire company or employee data based on email addresses, domain names, company names, registration numbers or phone numbers, or data can be enriched based on each company profile individually by fields of greatest interest of our clients and even by job titles. Of course, the intel we deliver is GDPR compliant, yet we have our own patented ways of finding what is difficult or even impossible to find. Besides, all the data is manually validated by our in-house team so that, regardless of the B2B info required, what we deliver is compliant with regulations, accurate and, most importantly, official.
The results achieved by weRtranslations with the data provided by Global Database are more than satisfying. In the first two months of our collaboration, they managed to:
Benefit from 3,000 custom data profiles enriched, verified and delivered by our in-house team. To mention, that this company intel was not easily available in online sources, or could not be found online at all. We collected all the information from official sources only or from the companies themselves, assuring also very high accuracy rates.
Onboard 5 new clients with 20 projects, which is a quite impressive achievement for such a short time.
To sum up...
Translation companies are those helpers on any market that aid businesses to expand their wings by offering their solutions and closing deals on an international level. Globalisation does bring a wide range of advantages, yet to be able to fully benefit from them one should also be able to understand them in full. Here is where professional translation companies come to the rescue. Not only do they simply translate, yet do their best to preserve the message and style of the documents their work on.
weRtranslations is a UK-based specialised translation services company, with a network of local and native-speaker translators all over the world. In their will to help other businesses expand and grow on the international plan, they had several ideas on whom they could help best. To facilitate both the research process and campaigns launch, they reached out to Global Database and achieved some outstanding results, by onboarding 20 new projects in the very first two months of collaboration with us. We were glad to help!