What do SIC Codes and NAICS Codes mean for marketing professionals?
The Standard Industrial Classification (SIC) and Northern American Industry Classification System (NAIC) represent the classification and codification of all business activity across the entire economic field in Canada, Mexico and the United States. Useful to business analysts, researchers, marketing, and sales teams, these extensive databases can generate original insights about industries and the companies who make them up. Marketers can use SIC codes and NAICS codes to target companies by industry, identify trends, qualify raw leads, segment markets and more.
Understanding both the Standard Industrial Classification (SIC) and Northern American Industry Classification System (NAIC) can help you get the most from these databases, which represent an extensive survey of the economic landscape of North America, from larger market trends to company specific information about business activities.
What is a SIC code?
The Standard Industrial Classification Code System was developed in the 1937 as the need for a common statistical framework to organise, analyze and quantify economic activity across North America became apparent. The system assigned four-digit numerical codes to classify the companies according to their business activities. Over the years, the SIC was updated to reflect the changing economic landscape but eventually the system reached its limitation and had some inherent flaws in its underpinning methodology. Today SIC codes are not used in formal governmental statistics but still have many applications.
Although the meaning of SIC in business today is relegated to older public sector institutions and systems, they are still widely used. In 1987 all revision of the SIC code ended, and in 1997 the system was officially replaced by the six-digit North American Industry Classification System (NAICS). SIC codes are no longer supported but remain in use at many agencies and organizations in the US and outside. For example, the SIC system is also used by agencies in other countries such as the United Kingdom's Companies House.
What do NAICS stand for?
NAICS stands for the North American Industry Classification System (NAICS). This system replaced the four-digital SIC system with a system of 6-digit codes. NAICS codes were jointly developed and adopted by Mexico, Canada and the United States. The NAIC codes were designed to reflect the composition of the changing economic landscape with its service and technological character, and also to standardize industry data collection and analysis between the North trade bloc partners, although it is not tied to any specific agreements. You can use NAICS codes to search for North American industry and trade statistics, financial data, competitor information, and more.
How are SIC and NAICS codes assigned?
Both SIC and NAICS codes are self-assigned, with the main difference being that SIC codes are no longer updated, and while they continue to be used, no new codes are generated. No revisions have been made to SIC codes since 1987 and the Standard Industrial Classification (SIC) Manual housed on the US Department of Labor OSHA site is dated from that year.
In contrast, NAICS are updated every five years and new subsectors added. The framework was last updated in 2017 and will be reviewed and revised in 2022. NAICS industries are classified according to a 6-digit system that allows more flexibility and is much more robust then the 4-digit SIC system. It classifies businesses according to business similar business processes and was designed by a cohort of statistical agencies from Mexico, Canada and the US, representing a more international standard based on coherent economic principles. The longer code also provides for additional details, allowing better data collection and segmentation. The sixth digit contains information pertaining to the individual country. The NAICS agreement fixes only the first five digits of the code, which will always be the same regardless of the user country.
Are SIC codes still relevant?
You might be wondering if SIC codes even matter if they are no longer revised and updated? Yes, very much so. While new SIC federal business codes are no longer updated, they are still utilised in many commercial databases and required for many different applications. Contractors and agencies may need to provide a SIC or NAICs federal business code in order to complete an application. The US Department of Labor and the Occupational Safety and Health Agency OSHA website publishes SIC codes. They will remain relevant to researchers and professionals for quite some time as older organizations transition slowly over to NAICS. Most companies and agencies are using NAICS, even if they also use SIC codes. Older industries and some public sector organizations may still find the SIC code system more relevant to their industry, so a dual system will probably exist well into the foreseeable future.
For marketers, SIC codes used with NAICS codes can supply more specific information and help segmentation and targeting.
Are SIC codes accurate?
There are many ways SIC codes are still used, but for marketers they are some of the most reliable data out there. Now only can you do a SIC code lookup by company name, a company code search, you can also query and entire subsector like services to see what the market is doing. Like any data point, there are more meaningful with other information, so many companies use both the SIC and NAICS codes as well as refining by other metadata.
What is a SIC code example?

You can look do a SIC lookup by company name to view how a company is classified and what federal business code numbers is associated with their company.
One SIC code example is Cisco, which is classified as: Industry: 3577—Computer Peripheral Equipment, Not Elsewhere Classified, and a secondary classification Industry: 7379—Computer Related Services, Not Elsewhere Classified.
Many new companies may find it difficult to classify under SIC federal business code number system because it may not reflect their activities, and yet still need a SIC code, for one reason or another. As an example, SIC code federal number 9999 - Nonclassifiable Establishments is a final level code of the "Public Administration" Division. There are 451,665 companies currently classified in this industry in the USA alone.
Since SIC business codes are no longer updated and less descriptive and current than NAICS, you might be wondering what a SIC code is even used for? Many North American businesses know and occasionally use their SIC codes. Many governmental entities and agencies from the local to Dunn and Bradstreet to the local Chamber of Commerce maintain SIC codes and NAICS codes in a dual system. Older systems and databases may require a SIC code as an input value.
Both SICS and NAICS require that businesses declare a primary industry and allow other industries to be selected. So, for example, a company that provides both consulting and legal services might operate under SIC code 1611 for Legal Services in addition to SIC code 8748—Business Consulting Services.
What is NAICS code example?

Every company or LLC receives a primary NAICS code which is determined by the code definition that generates the largest revenue for a company at a specified location in the past year.
For example, Ecommerce stores have a NAICS code of 454110 for online businesses, although some Ecommerce businesses may have a secondary classification for other business activities. NAICS code association for an LLC is 551112. Similarly, all Chamber of Commerce are classified under 813910, which is defined as:
813910 - Business Associations
This industry comprises establishments primarily engaged in promoting the business interests of their members. These establishments may conduct research on new products and services; develop market statistics; sponsor quality and certification standards; lobby public officials; or publish newsletters, books, or periodicals for distribution to their members.
Real estates boards, trade associations and manufacturer associations and more would also be classified under this NAICS code.
Why does NAICS code matter?
The North American Classification System (NAICS) is a joint effort by the three NAFTA countries, now signed under the United States-Mexico-Canada Agreement (USMCA). It was developed and is maintained by the Instituto Nacional de Estadistica y Geografia in Mexico, Statistics Canada, and the United States Office of Management and Budget through its Economic Classification Policy Committee and staffed by the Bureau of Economic Analysis, Bureau of Labor Statistics and the Census Bureau. Companies are classified into industries with similar production processes in order to standardize data collection and comparison all across North American. Researchers can drill into the data using analytics and a NAICS code API to read and predict larger market trends across the entire region.
How many digits is SIC code?
What is a 4 digit SIC code? It is a 4-digit code that reflects industry specific information. For example, the YMCA is classified under SIC code 8611. The Standard Industrial Classification System (SIC) was designed to classify business according to industry. For that reason, it can be useful alongside the NAICS to supply additional context.
What is a 6-digit business code comprised of?
What is a 6-digit NAIC code?
NAICS codes classify economic activity into 20 different industry sectors. Fifteen of those are service related, while five primarily produce goods.
Sector: 2-digit code
Subsector: 3-digit code
Industry Group: 4-digit code
NAICS Industry: 5-digit code
National Industry: 6-digit code
How many digits is NAICS code?
The 6-digit code allows greater segmentation, but in some cases, not all the information is relevant. The 6-digit NAICS business code ends with a country specific digit at the end. In some cases, there are 7 and 8-digit numbers but they are not included in the official numbering system.
813910 YMCA NAICS code
| | |
| --- | --- |
| 81 | Designates the economic sector |
| 813 | Designates the Subsector |
| 8139 | Designates the NAICS industry |
| 81391 | Designates the NAICS industry |
| 813910 | Designates the national industry |
How many NAICS codes can a company have?
You can have multiple SIC codes or NAICS codes. All companies are assigned a primary according to where they produce the most revenue, but secondary NAICS codes are other revenue producing activities a company operates in.
What is a SIC code and where do I find it?
You can do a company code look up to see what SIC and NAICS codes a company has been assigned.
How do I find out what my NAICS code is?
You can use the search feature at the Census Bureau. Simply enter a keyword and a list of marching NAICS codes will appear, or start with your industry code and drill down from there. If you need help you can visit the Census Bureau FAQ.
What is the NAICS and SIC codes for Insurance Co?
To get a better idea of how NAICS and SIC codes look for insurance brokers and agencies, take the 6411 SIC code in insurance.
The first 2-digits in the SIC code covers Insurance Agents, Brokers and Service. Under 62, all companies working insurance companies would fall under this classification, including suppliers and others in the supply and distribution chain.
The insurance NAICS code for an insurance agency. The first two digits 52 covers financial and insurance agencies.
What is SIC and NAICS codes of Data Centers?
For data centers, the NAICS code the 518210 - Data Processing, Hosting, and Related Services.
The data center sic code SIC Code 7374 - Computer Processing and Data Preparation and Processing Services
Do sole proprietors have an NAICS code?
Sole proprietors may be classed under different codes depending on the type of work they do. For example, the NAICS code for an independent contractor working in construction while 711510 Covers Independent Artists, Writers, and Performers. Each sole proprietor can find their NAICS code on the census bureau site.
How SIC Codes and NAICS can help marketers generate high quality market research to inform their marketing strategy
Today, it's getting more and more difficult for marketers to get their hands on high quality, original research about market trends. By the time it reaches the general public, market research has lost its edge. From finding new markets to targeting industry specific segments, SIC codes and NAICS codes can help you do your own original research into any market or niche.
The advantages of SIC codes and NAICS codes
SIC codes and NAIC codes offer many advantages to marketers and sales teams entering North American markets or expanding into secondary markets. Using SIC and NAICS codes you can gain high quality, timely business intelligence to fuel your marketing strategy and sales efforts.
Analyze your current customers and pipeline to gain more insights
Discover secondary markets or segments using the industry code
Gain valuable market and competitive information
The disadvantages of SIC codes and NAIC codes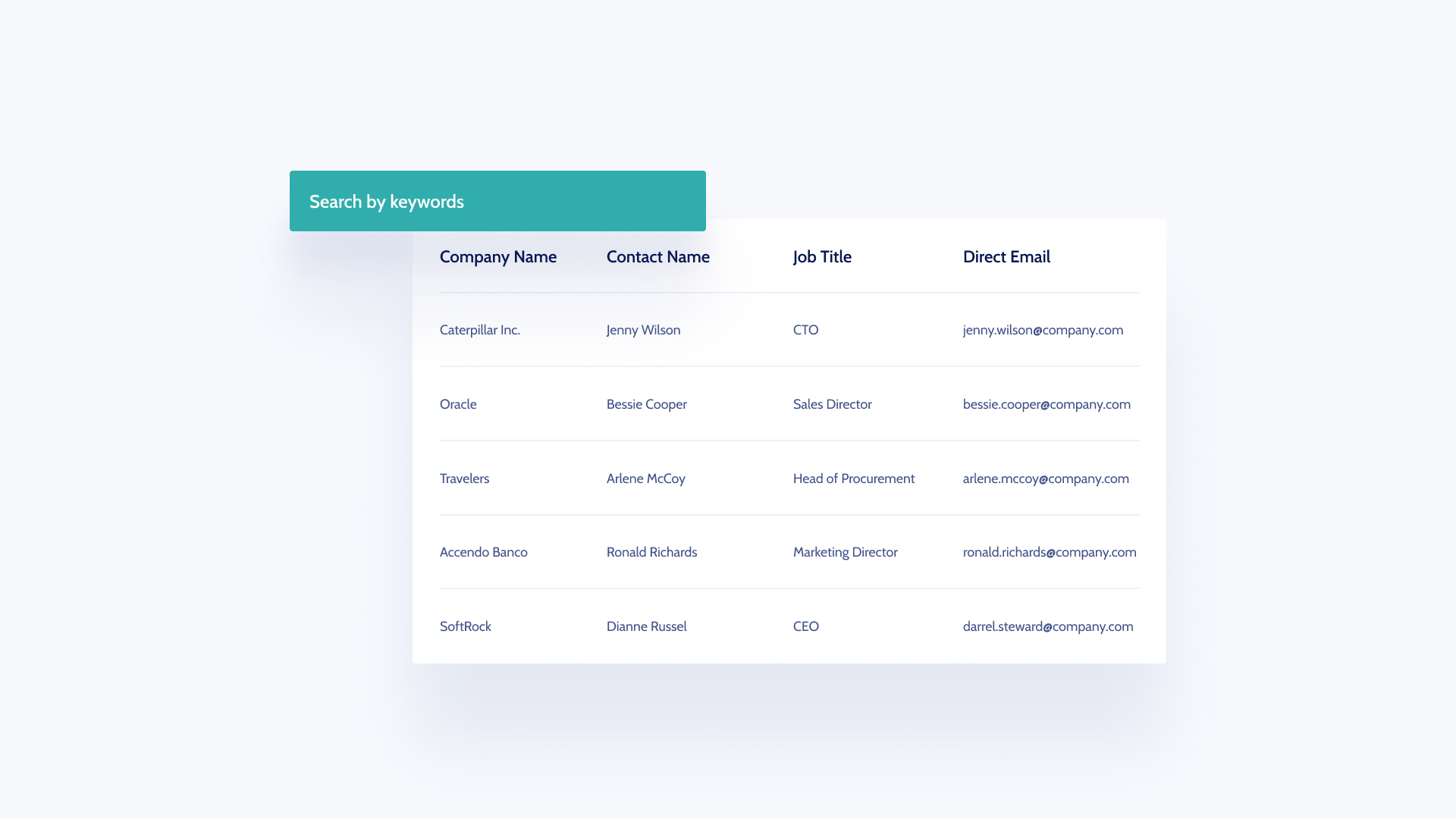 SIC codes and NAICS codes can help you easily build targeted lists, conduct detailed competitor research, and fill your sales pipeline with qualified leads. However, without the proper segmentation and search tools, it can be difficult to narrow in on the right companies.
With Global Database you can quickly drill down into the industry categories to locate companies in a specific niche. For example, a company that sells supplies for "nail salons" can search on "nail salons" while querying SIC codes, NAICS codes or both. You can further refine your results according to company size, structure and other metadata. With Global Database you have full access to company names and addresses, direct contact details, financial information, business size and more. Our metadata covers companies of all industries and sizes, so whether you are looking to buy small business data or that of a much larger enterprise, you can have it all at your fingertips. You can use our keyword search feature to locate businesses in any niche, of any size in locations across North America. Build targeted lists quickly, qualify existing leads, conduct competitor research, and perform due diligence before concluding big business deals.