Basic B2B Lead Generation Guide

What is B2B Lead Generation?
B2B lead generation is the process of identifying your ideal customer and attracting them to buy your product or service.
So why is B2B lead generation important? B2B Lead Generation increases brand awareness, captures potential customers' contact information, helps you understand their needs, and creates connections that result in higher conversion rates and greater customer retention.

How Effective is B2B Lead Generation?
Throwing money at marketing and waiting to see what happens will leave you with not only a subpar ROI but a guess as to what worked and what didn't. B2B lead generation marketing and digital strategies use a statistical and quantifiable format, ensuring you'll know exactly what to keep doing and what to change to get optimal results.
In the B2B arena, your best leads are typically the decision-makers in both small and large businesses. By getting to know your audience, what avenues they use, and then capturing their information, you'll be able to create and fill a comprehensive b2b sales lead generation funnel that helps you to stay on the front of their mind and pitch your products or services.

How to Select the Best B2B Lead Generation Channels
How do you know which B2B lead generation methods work best and which ones to employ? There's truly no secret answer here. Whether you're doing lead generation yourself or hiring a B2B lead generation agency, you'll need to take your target audience, goals, and budget into account to see which B2B lead generation channels will give you the best results.
Since getting quality leads is more about finding the combination of B2B lead generation tools that work best for your business, you'll likely need to take a diverse approach and engage in B2B multi-channel lead generation. No matter what you use, be sure to stay on top of your campaign—using B2B Marketing lead generation software will allow you to optimize and test the effectiveness of your lead generation methods.

How Effective Are These B2B Lead Generation Tactics?
B2B buyers tend to compare multiple vendors before making their purchasing decision. So how do you get on their search radar in the first place— and then stay there? Figuring out which B2B lead generation methods work best for you will depend on a few factors unique to your business, but the following methods have been shown to be highly-effective overall.

Marketing Automation

Part of the beauty of B2B lead generation is that you don't need to reinvent the wheel each time. Marketing automation allows you to harness technology to automatically manage and complete tasks, and it's a very effective way to track your visitors and leads, improve the customer experience, and send dynamic content. Once you have your framework set up on the marketing automation platform of your choice, you can take a step back and let it do the work while you focus elsewhere. Of course, you'll still need to stay on top of analytics and adjust things as necessary, but those repetitive tasks will be off of your to-do-list.

Email Marketing
You'll likely hear different opinions about whether email marketing for B2B lead generation is effective, but the statistics make its value clear: by some estimates, email generates $38 for every dollar spent. That's a pretty impressive return on investment!
Email addresses are often the easiest and most frequently obtained contact information from potential customers. By using an email marketing automation platform, you can set up a B2B lead generation funnel that will allow you to send timed and event triggered emails to increase brand awareness, connect with readers' pain points, and prompt action (i.e. to use your product/service). Stay away from impersonal and super salesy messages—emails work best when they build personal connection and foster engagement.

SEO
SEO, or Search Engine Optimization, is one of the most important parts of your campaign. It increases both the number of visitors as well as the quality of visitors to your website through organic search engine results—ultimately increasing your conversion rates. The best part: optimizing your site for SEO enables you to generate high traffic, and hence free B2B lead generation. This is done through a focus on both content marketing and backend SEO mechanics.
Google Ads
Well timed and highly-targeted Google ads can be an effective way to use PPC for B2B lead generation. The great thing about PPC is that you only pay when a user clicks on your ad. But in order to attract clicks, your content must connect with the customer and contain the right keywords. The downside? Due to its rise in use and the competitiveness of the market, the price per click can get costly when not well managed. Make sure you continue to use analytics and adapt your ad as needed.
7 Must-Have Social Media Tools for B2B Lead Generation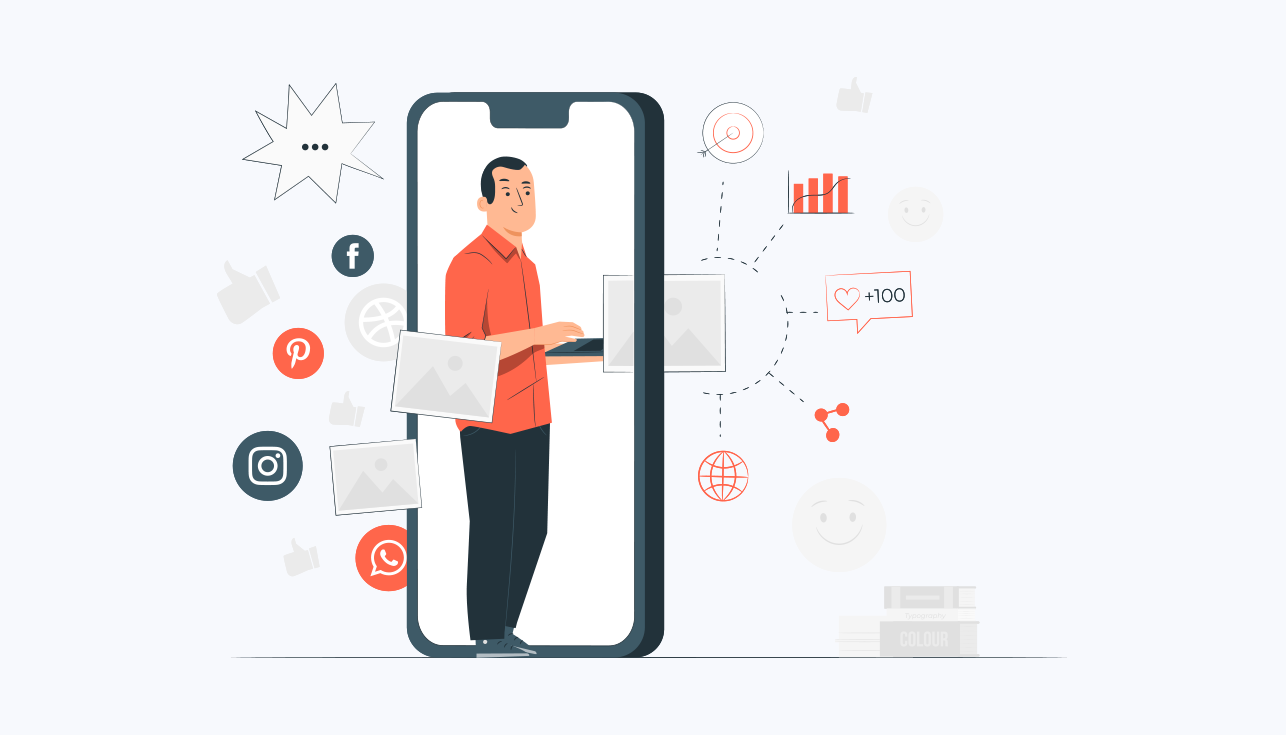 Some B2B businesses overlook the power of social media as a lead generation avenue in B2B sales, but when 3.81 billion people around the globe are using at least one social media platform, it's safe to say there's a wealth of potential customers right at your fingertips. So what's the trick to harnessing the power of B2B social media lead generation and what's different when it comes to social media b2b lead generation vs traditional lead generation?
In B2B marketing and lead generation, social media makes a great channel for top-of-the-funnel awareness. It's been shown that most leads come from using LinkedIn for B2B lead generation, but Facebook, Twitter, Instagram, and even Reddit are still quite useful for B2B lead generation.
There's no one-size-fits-all approach, but by getting clear on your target audience, engaging on their platform(s) of choice, and using social media to help add users to your B2B lead generation funnel, you'll be able to nurture and then later convert highly-targeted leads.
Check out these must-have social media tools for B2B lead generation:

1. Lead Generation Ads
We spoke about Google Ads above, but there are additional options as well. B2B lead generation on Facebook has many facets and is another great spot to buy lead generating ads. But when it comes to B2B social media conversion, LinkedIn, one of the top B2B social media platforms, ranks the highest.
LinkedIn ads work best when targeting users based on their job title or industry. Twitter and Facebook ads do best by targeting people based on their interests or other people they follow online.
2. Giveaways
Everyone loves free things. And you see giveaways happening a lot on social media because, well, they work for B2B lead generation. You can boost engagement, capture emails with a free download, increase awareness, and put the spotlight on new products and/or services.

3. Gated Content
Online content that is free for the taking is definitely important for B2B lead generation, but giving your visitors something of high-value that requires them to provide their email address is a promising way to get leads into your email B2B lead generation funnel. Most people don't mind exchanging their email if the gated content you provide is valuable enough.
4. Click through Landing Page
Even if you're using organic search or PPC for B2B lead generation, landing pages are still necessary in order to capture leads. They provide a place for users to go for specific information and can serve as squeeze pages to gather contact information of your potential customers.

5. Optimized Profile
When using Facebook, LinkedIn or Twitter for B2B lead generation, make sure you get the most out of your business profile by writing a clear and benefit-focused company description and including your contact info, website, and a CTA button. When relevant, include hashtags and your company logo.
6. Social Listening/Information Gathering
Have you ever read the comments on social media platforms? They hold tremendous value in showing you your audience's pain points and perspectives. One surprising and overlooked avenue is to employ B2B lead generation on Reddit. The platform is a goldmine for research and you can also post content as a leading voice in your field.
7. Free Trials and Discount Codes
Another tool for B2B social media lead generation is to offer prospects a discount code in exchange for a signup or download. It's of course another way for you to capture contact information to add to your sales funnel, but it also gives the prospect an immediate incentive to make a purchase.

How Marketing Automation Can Help Increase Your B2B Sales
Marketing automation simply means harnessing technology to manage marketing processes across multiple channels. And digital marketing automation is understandably becoming a key component in any successful B2B lead generation campaign. Saving you time, money, and a lot of headaches, marketing automation platforms can lift strenuous and time-consuming tasks off your plate so you can focus more of your time on what you do best—all while continuing to generate new leads, close sales, and nurture and monitor your current customer base.
B2B marketing automation solutions can be used across email, web, social, and text, and they often include processes such as automated onboarding processes, email automation,live chat functions, scheduled social posts, and data analysis. Email marketing automation allows you to send out personal emails, both scheduled and triggered by readers' actions, allowing you to promote your products/services and nurture your list. Since there are various email marketing platforms and email marketing strategies, it's important to find the one that fits your unique needs.
B2B marketing automation software brings the added benefits of being able to easily monitor and track your progress through the use of analytics tools. As you and your customer base grow and change, you can quickly adapt and tweak your campaign.
What are the Best Industries for Lead Generation?
It's possible to get high B2B lead generation conversion rates no matter the industry you work in, but certain niches lend to attracting more leads. The best industries for B2B lead generation have a deep pool of potential buyers, a high value of lead conversions, and a high volume of search traffic.
So what is the best B2B lead generation list industry? Lead generation in the pharmaceutical industry and automotive industries are ideal for attracting leads. Telecom lead generation as well as lead generation in the IT industry have shown quality results. Insurance, HVAC, and higher education also rank high for B2B lead generation success.

How Much Does B2B Lead Generation Typically Cost?
If you've ever engaged in marketing, you know the tried and true formula of "Total dollars spent on marketing divided by # of leads from the campaign = ROI". B2B lead generation pricing can vary greatly, but the formula holds true.
So how much should a lead cost? As we've discussed in this guide, the cost per lead really depends on the industry, product, type of company. B2B marketing and lead generation should be highly-targeted, thus reducing wasteful time and spending. But on average, the cost per lead in 2019 was $198.
As with anything in business, B2B lead generation does require time and has a learning curve. For that reason, B2B lead generation and appointment setting services have become a popular—and cost-effective—way to fill a pipeline of leads without the need for in-house marketing staff. Bringing on the help from a B2B lead generation service can help boost your ROI, but know that they too range in price and quality. Make sure you thoroughly read B2B lead generation reviews and go with a trusted B2B sales lead generation company.

Which Industries Pay the Most for B2B Leads?
Most industries benefit from B2B lead generation, but depending on which one you're in, your leads may come at different costs. Finance, technology, healthcare, manufacturing, and tourism all have higher lead costs. B2B lead generation for schools comes in next, followed by lead generation for telecommunications. And what about those marketing agencies who help businesses generate leads? They too need their own leads, and since it's a competitive sector, they may pay a little more for theirs.