Many a marketer's favourite, Global Database has long proven to be of great use to marketing and sales departments and businesses. However, company databases just like ours are not only designed to help marketing companies in providing their services. In our previously published case studies on the successful use of B2B company directories we've shown that these are not just meant for marketers, but can also be applied by management, human resources, financial and many other departments, verticals, and types of businesses. In this case study, we would like to uncover a bit of the optimization figures achieved by Gruppo Finservice after acquiring one of the Global Database packages.
Gruppo Finservice - 20 Years Guided by Passion, Independently, Towards the Future
Gruppo Finservice is the first Italian independent consulting company, specializing in subsidized financing and obtaining grants. They guide companies through the maze of EU, national and regional regulations by finding the best tax incentives to make development and investments easier.
Gruppo Finservice SpA (Società per azioni - joint stock company) is operating since 1999 in the professional consultancy sector. Headquartered in the historic center of Mantua, the group has a commercial presence all across Italy. Gruppo Finservice SpA is the holding company of six companies: Finservice Srl, SF Consulting Srl, E. Erre Consulting Srl, Didacom Srl, Nexus International, PBS Srl. Their main clients are industrial companies.
The quality of the provided consultancy relies on the value the company places on people, namely on more than 300 professionals with a solid education and a wide experience in the world of finance and subsidized credit. All the relevant information is constantly monitored by the group's team, which guarantees companies a relationship based on accuracy and constant updating in each phase of the process.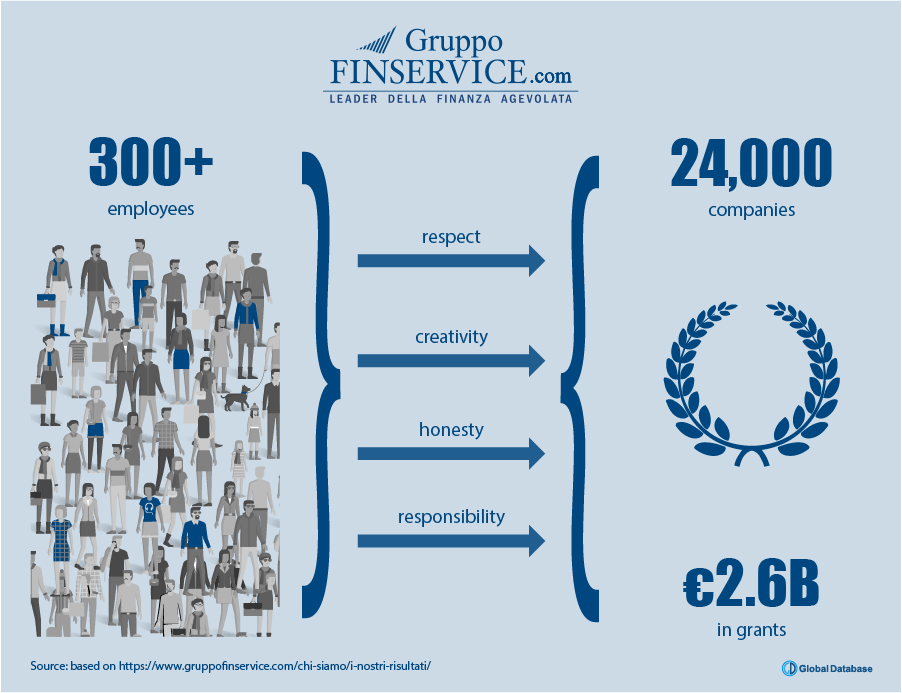 Gruppo Finservice has a complex, progress-oriented mission, which suggests combining creativity, technology and discipline to constantly nurture each company with new ideas and solutions towards making development and investments easier. Their commitment to the society and long-term vision, along with honesty, respect and responsibility towards the customer are the values that altogether allowed Gruppo Finservice's team of professionals to help over 24,000 companies obtain more than 2.6 billion Euro in grants.
The daily commitment, honesty and transparency of every department of the group, the competence and accountability towards the customer have altogether been representing the Finservice Group for over 20 years, allowing them to obtain the Legality Rating (Rating di legalità). The latter is an identification assigned by the Italian Antitrust Authority (AGCM) to spread an ethical behavior among companies. The Legality Rating is an important identification that allows companies to obtain a series of advantages, in addition to improving the corporate image, such as: a fast lane in access to contributions and public tenders, facilitated granting of financing or leasing by banks, and reduction of time and/or interest on loans or leasing.
Gruppo Finservice Challenges and Global Database Solutions

What financial company would not be both willing and able to optimize their spending? Cost-related challenges set the foundation for the main reasons Gruppo Finservice has reached out to Global Database. The numerous payments they had to make to various local data providers in certain regions of Europe, Asia, LATAM and North America were consuming an irrational portion of the group's resources. Moreover, the lead validation process was also taking a lot of time and expenses. Hence, a way to optimize spending was needed and Global Database could provide the perfect solution.
Yet another challenge for Gruppo Finservice was the access to up-to-date and verified company and executives data. Maintaining liaisons and continuously communicating with partners in so many regions required a solid updating process, which was not too easy to assure, yet again requiring substantial resource allocation.
Once the challenges and needs were outlined, Global Database was ready to come up with a solution. First of all, Gruppo Finservice received access to our B2B company directory, where they could easily browse and search for relevant leads according to:
Location, being able to dip into businesses filtered out by region, country, and even county or city of interest.
Industry, selecting filters by either industry focus or relevant SIC code.
Company information, segmenting results by company status or size, trading activity or activity type.
Financials, revealing information including credit risks and credit limits, revenue, turnover and other financial data.
The above-named filters are just a few of the multiple opportunities that Global Database has on offer. Most importantly, though, Gruppo Finservice gained access to an ample directory of executives data, providing the opportunity to get in touch directly with decision-makers.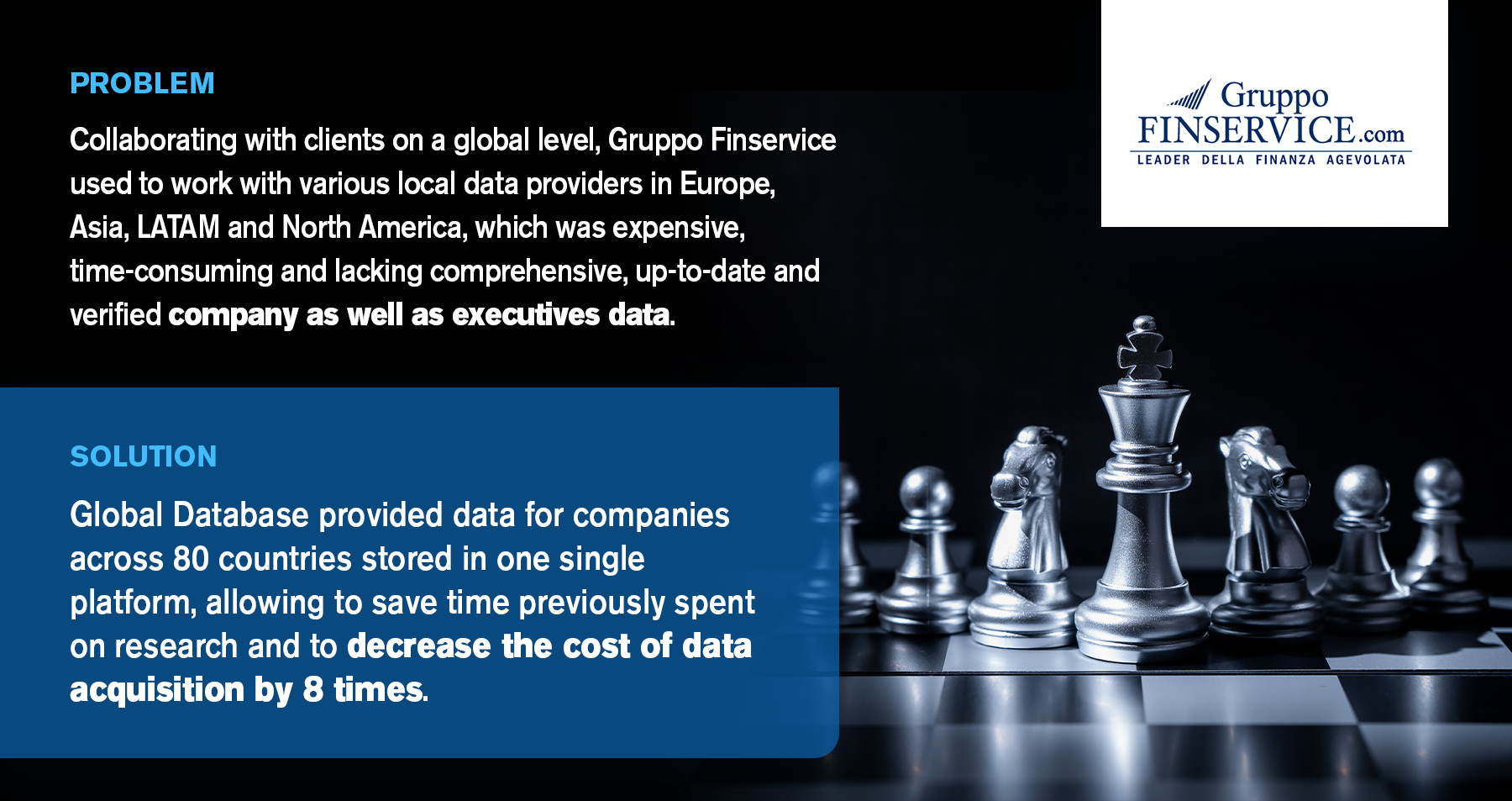 The results were astounding. Achieving access to corporate data across 80 countries in the required regions, Gruppo Finservice had all their main challenges faced. Not only did they get all the needed information in one single platform, they also decreased the cost of data acquisition by 8 times. The risks of contacting the wrong people in a wrong way fell close to zero, as the information at hand was accurate, updated, and available when needed. Consequently, time and human resources wasted on research and mistakes decreased dramatically.
To sum up…
Gruppo Finservice and Global Database teamwork is yet another fruitful collaboration that led to solving problems and achieving solid optimization results. The former reported a decrease of data acquisition-related costs by 8 times, mainly due to the possibility to find all the needed data in an accurate and neatly organized format delivered by one single data directory provider - Global Database.