Companies apply to CRMs for optimization purposes, and for the enhancement thereof, integrate them with business intelligence platforms. By this we do not just mean the optimization of processes themselves, but of resources as well, be it human, time, or financial. Make a simple assessment. To collect and organize data, you need at least one employee, a different person from your sales representative. You'd have to pay him or her a salary, and corresponding taxes, along with other related office expenses. Add up these costs to an annual estimate, and then simply compare the result with the cost of subscription to a business intelligence platform per year. Chances are high that you'll be surprised by how much you can actually save when choosing a subscription to a companies database which can be easily integrated with your CRM, rather than having an employee doing the job manually. Obtaining the needed results when you have access to an existing database takes minutes. How much time does it take your employee to collect all the data you need? Regardless of the Salesforce plan you are using, the CRM can be easily integrated with Global Database. Read this as "you can start reaching out to prospects right after you got your Salesforce account integrated with our business directory". And watch your sales and/or response rates grow faster than ever before.
Many an expert's favourite CRM software, Salesforce is now the leader on the customer relationship management systems market. Well, it is of no surprise, considering the sheer variety of features it offers: B2B marketing tools (e.g. Pardot B2B Marketing Automation), click-to-call features (e.g. Lightning Dialer), data management and advanced analytics features (e.g. Einstein Analytics), project management solutions, and customizable dashboards to name just a few. If you are reading this article, you are most probably familiar with what is a CRM system and what Salesforce has to offer. Moreover, the goal of this article is a bit different than sharing a popular CRM definition and presenting you Salesforce. However, if you are willing to dig more into available features and solutions, you are always welcome to visit their website, or look into any of the articles trying to identify the best CRM software.
Solutions provided by company databases that will raise the quality of your leads
Generally, most business intelligence platforms contain a wide array of information. Offered solutions are most useful for B2B, and oftentimes comprise:
Company information. Varying from one platform to another, usually, here are included (but not limited to):
- Company status, which allows you to filter out companies that are active, intermediate or inactive.
- Company size, e.g. in terms of the number of employees.
- Trading activity, based on the market the company focuses on, separated into exporting and importing companies.
- Activity type, e.g. whether the company is a manufacturer, distributor, or a service provider.

Credit scores. Credit scores and credit risks assessments are based on the company's current liabilities, including mortgages and liabilities related to past or ongoing court judgements and charges. Some business intelligence platforms also display suggested maximum credit limits based on these data.

Financial reporting. Normally it takes a lot of time to look up for companies' financial information. It becomes a lot more of an issue when you need financials for at least three or five years, and you have to search for archives. It gets frustrating when a lot of that data is missing or no longer available. Business directories hold that data, and thus provide you with complete information right away, offering you the possibility to compile businesses' financial profiles and save time.

Big data for market analysis. Raw data is usually unstructured. Turning raw data into useful insights is troublesome and time consuming, especially when you need to perform an industry or market analysis and to process a huge amount of data. Normally, intelligence platforms offer structured and semi-structured information, which results in reduced time frames for data analysis, regardless of the user's goal.

Account-based marketing. That's a very useful solution when your approach is to take quality over quantity. On one hand, it brings the opportunity to select thoroughly your prospective business partners. On the other hand, having detailed company profiles helps the user to easier discover what is relevant and important to each and every one of them. A more personalised approach has historically proven to be more efficient in transforming prospects into leads and clients.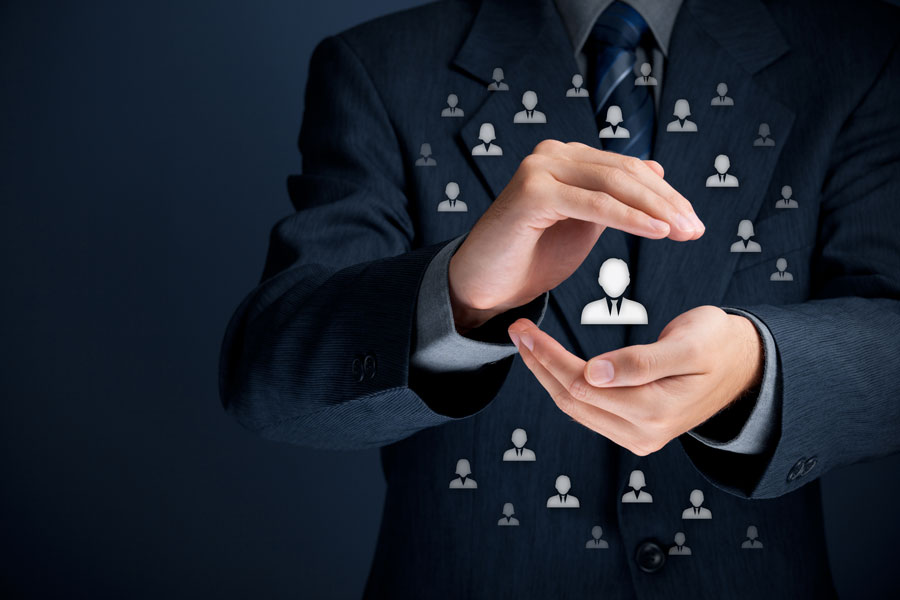 Executives database. We've all been there. It is extremely frustrating when you find the perfect prospect and are ready to offer them the ideal solution for their activity, but get stuck in correspondence with gatekeepers and other employees who are not ready to understand the value of your offer to their company. This is when the holders of business directories subscriptions rejoice. On average, high quality company databases list three direct contacts of decision makers and their profiles. This gives the possibility to the information holder to determine the best approach and contact the decision maker directly, considerably increasing the chances of transforming the prospect into a business partner.

Technology insights. Digital data gives you a comprehensive vision of the company's web presence and popularity. Varying from one business intelligence platform to another, you may find out company's website Alexa rank, traffic sources, website visits, technologies used and other digital insights. Some of these types of information are very hard or expensive to find.

Anti-Money Laundering solutions. Regardless of whether it is about your existing business partners or simple prospects, it is paramount for you to be compliant with stringent AML Directive requirements. It doesn't actually matter how many companies you need to check, but this kind of solution becomes extremely handy when you need to perform AML checks of companies in bulk.

Know Your Customer solutions. Also known as KYC checks, these solutions help you be sure that all of your stakeholders are fully UK KYC requirements compliant, be it customers, prospects, suppliers or employees. Normally, business platforms providing these solutions have access to accurate records from thousands of trustworthy sources and save you a lot of time accelerating the sophisticated KYC documents UK checks.
Many platforms also provide different tools, that allow an easy and fast selection of companies that fall under a set of criteria relevant to the user. Thus, instead of browsing hundreds of thousands of companies, wasting time on research and selection of the ones that correspond to needed requirements, and looking for the contact information of the decision makers, these filters are applied, listing relevant results within seconds.
Having run the selection and checks, you can be sure of a considerably higher quality of your leads, consequently ensuring your own company's safety.
Global Database integration with Salesforce
Aside of providing all of the above listed solutions and more, our business directory can help you relish the advantages of using both: Salesforce, a leading CRM software, and a comprehensive company directory, by integrating them in a fast and simple manner. All you need to do is install the extension on AppExchange. As smooth as it sounds, while we do the prospect work for you, you can just leisurely follow how the pipeline fills up with more leads on a daily basis in your preferred CRM.
Based on your own pace and needs, when integrating the Salesforce with Global Database, you get a series of options you can choose from, as follows.
When you are searching for new leads, what you can do to facilitate the process is log in to your Global Database account, and start applying the segmenting tools available with our companies directory. As they are pretty straightforward to use, you may be surprised how fast and uncomplicated it is to get a list of prospects. All you'd have to do is to set filters according to your criteria of choice, and click the 'View Results' button.
The companies corresponding to your requirements will be listed, and as you click on them one by one you will see all the information comprised in our database for each of them. This will help you scan them one at a time. As you identify a high quality lead, while browsing the lead's detailed information go to the 'Employees' tab, click on the name of the employee whose seniority level or department is of most interest to your business, click 'Download', and in the pop-up window choose 'Create lead in Salesforce'. A success message should appear, and all that's left is to click OK.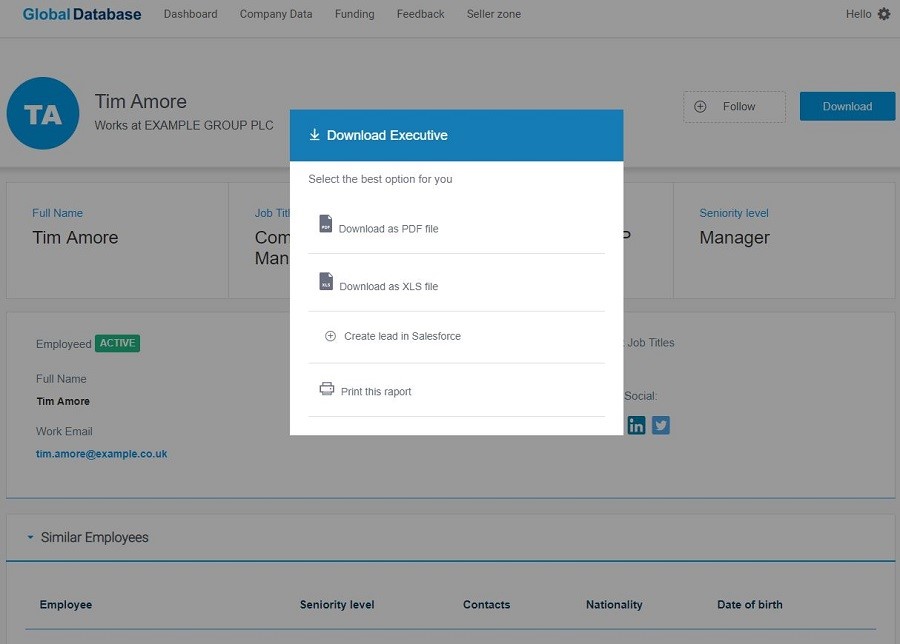 After applying the segmentation tools in the same way as in the example described above, you get the list of companies. If you are sure, that the applied filters would help you select the companies you need, and that all of the obtained results are worthy leads, you can export them all at once to Salesforce, similarly clicking the 'Send to Salesforce' button. Easy-peasy.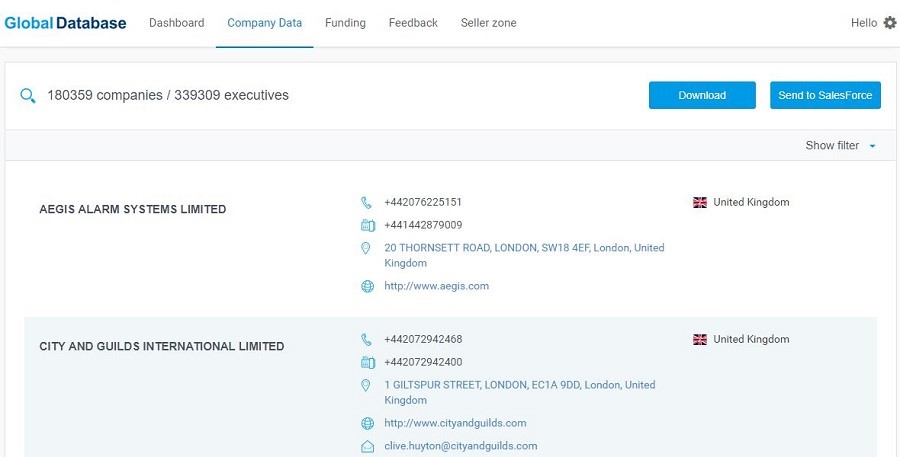 If you have a list of prospects, but your data is incomplete, Global Database and Salesforce integration allows you to enrich your data hassle-free. This option helps you to fill in all the gaps in your own database directly in Salesforce. For this, in your Global Database account, you must go to the Enrich tab, click Upload, and follow the required steps. The gaps will be filled by the information you need, if available right away in our database. However, if you discover that you need more information, just let us know and we'll perform a bespoke data research for you.
You're always in control
Even though integration implies automatically synchronised records, you are still in control of everything that is going on in your Salesforce system. The data comprised in Global Database business directories are updated on a daily basis, and all the emails we list are validated every month. However, as soon as a change takes place related to the information of your interest, we send you a notification. We don't make any changes without your permission, and you keep control with custom mapping.

To sum up…
Using a CRM software like Salesforce can definitely kick-start the growth of your business or augment your current sales. Integrating the CRM system with a company directory such as Global Database can contribute to this process even more. Identifying prospects, selecting the highest probability ones and exporting them to your CRM, would doubtlessly boost the quality of your leads, and you'll surely feel the difference when you harvest the results.