Social media may have enjoyed a somewhat meteoric rise in recent years, but that doesn't mean email is over. When it's done well, it remains an incredibly valuable tool for building working relationships, and can drive engagement like no other tactic. You only have to consider the statistics to know why - more than 90% of people visit their email once a day at a minimum, research by Salesforce.
With business to business email marketing (aka B2B), it's imperative to distinguish between that and its B2C (business to consumer) counterpart. You should have a plan that is specifically tailored to a B2B audience; in this article we'll go over the differences the two types have, and what you should do to give your B2B email marketing the greatest chance of winning.
Is Email Marketing Still a Thing?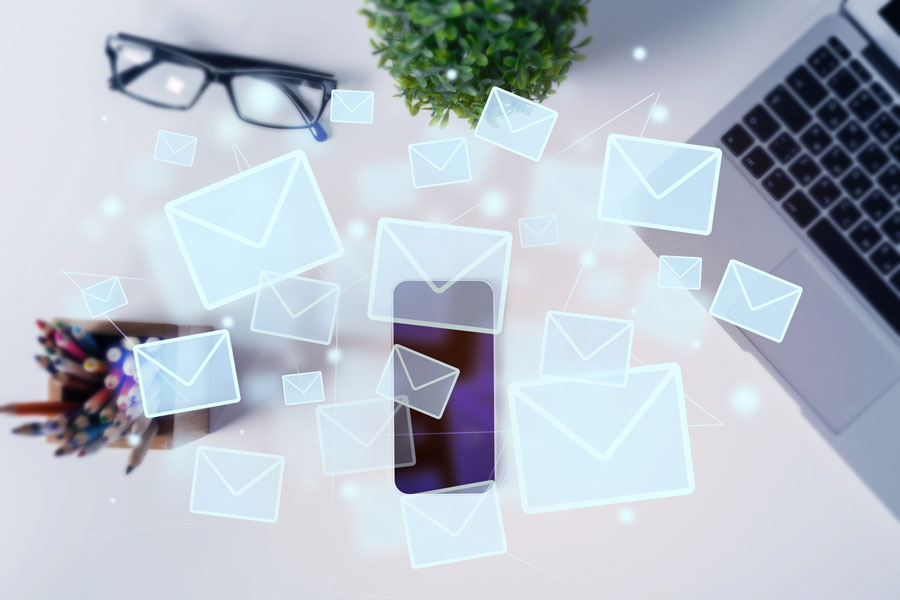 Despite the claims and predictions that email is a dying tactic that crop up every now and again, rest assured that it is very much here to stay. Consider how many emails your receive each and every day; would so many businesses still be using a channel that was providing little or no results? The simple fact is that email is part of everyday life. Figures from Statista show that there were 3.7 billion email users in 2017, and this is expected to reach 4.3 billion in 2022. The total number of emails received will increase from 269 billion during 2017 to 333 billion in 2022.
There are several important reasons that why email is very much still relevant today and will continue to be in the future...
Personalisation - Gone is that heyday of spam. Nowadays the new wave of highly-targeted and carefully-tailored messaging means more effective campaigns and better engaged prospects.

Mobile Devices - Around 67% of the world's population will own a mobile phone by 2019. The fact that people are now able to check their inbox any time day or night means there's even more chance of your email getting seen.

Automation - The availability of automation tools has made the sending of email campaigns a lot more efficient and cost-effective; you can deliver personalised messages according to how the recipients have interacted with your site, without having to manually monitor each movement they've made.

Staying Updated - While many people appreciate being kept up to date on topics that are interesting for them, only a minority will keep checking your site on a regularly. Email gives them the chance to stay abreast of new goings on, delivered straight to their inbox. You're then able to encourage them to go to your site by including a tempting call to action in your messages, i.e. an exclusive offer.

Wide Reach - Email means you can speak directly to individuals of all ages and over all geographical locations. As the research from Statista shows, using email is the most common type of online activity - 85% of adults do it on a regular basis. While social media forms may falter (note the shrinking of Snapchat users for example), email has remained as popular as ever - indeed, its usage continues to grow.
Why Use Email Marketing for B2B?
Email marketing for B2C may be a strong tactic, but B2B emailing is on a different level. While we've established that the majority of consumers clearly check their inboxes on a regular basis, businesspeople undoubtedly do this more often. Research from DMA Insight found that 99% of company employees check their account every single day, and for some that can mean up to 20 times a day.
Moreover, as the chart below taken from the 2018 State of Inbound report shows, the vast majority of businesspeople prefer to use email as their main channel of communication. Clearly B2B email marketing is an incredibly important asset for any company to ensure they're making the most out of.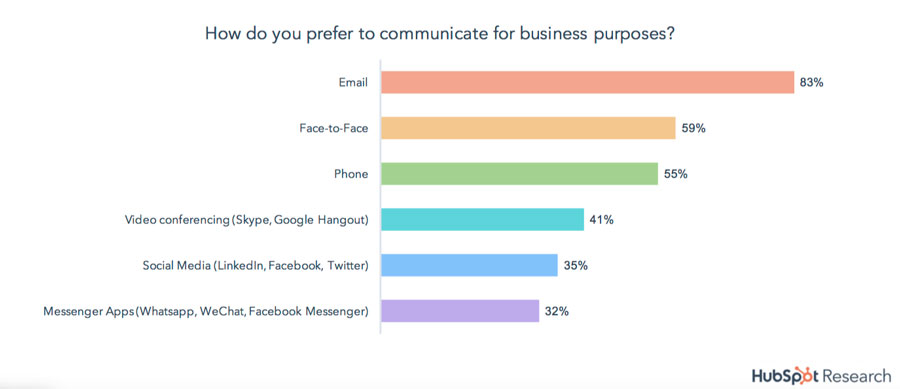 Other Benefits of B2B Email Marketing
Influential - Wordstream notes that email marketing is the third most influential source of information for those in B2B, after recommendations from peers and industry experts. It is also the perfect tool to spread word about your company or products; 72% of B2B buyers use email as their preferred method to share interesting content, according to research from Earnest Agency.

Targeted - Unlike if you run an ad in a newspaper or on the TV, or even paid ads, with email you keep power over who actually sees your messages. Even better, you're able to group your audiences according to their needs and preferences, creating content that is definitely relevant to them, encouraging better engagement and conversion rates.

High ROI - B2B emailing is also incredibly cost-effective, particularly in comparison to other, less effective channels such as radio or direct mail. You can even use free options for bulk sending, including that offered by MailChimp. It offers an unparalleled return on investment of $38 for every $1 spent, and one fifth of companies report an even higher ROI of $70 earned for $1 spent.

Instant - Email can offer immediate results from the moment you click the send button, particularly given the high number of people using their mobile phones to check their accounts 24/7. Other methods such as direct mail can take days to reach your audience, and you're reliant on them actually being at that specific address.

Measurable - Email marketing allows your business to easily track the success of your campaigns, as soon as you launch them. This is especially crucial considering 68% of businesses believe improving the measurability of their ROI is their prime data management goal. Email allows you to very easily monitor stats such as open, bounce and click-through rates, so you know exactly where your campaigns need improving.
B2B vs B2C Email Marketing
So what are the key differences between email marketing for B2B and B2C audiences? Check out the infographic below for answers...

As the infographic shows, a B2C and B2B email marketing strategy require different approaches across several factors. To summarise, here's how the two differ:
Purchasing Behaviour - While B2C marketing relies heavily on tapping into the emotions of a consumer, B2B is much more focused around logic and solving the challenges of the business. Because of this, B2C purchases are usually based on impulse and are therefore immediate, while B2B selling takes time to build a rapport and demonstrate exactly how your product or service is going to benefit the buyer's company.

Buying Cycles - A B2C customer will often make a decision to buy in just minutes, B2B meanwhile can take months, and will have to go through multiple individuals at the organisation to reach a decision. Therefore, your B2B emailing needs to be centred around showing your company as an expert in your industry to build trust, and your communications should have a friendly but professional tone.

Frequency - With B2B email marketing, it's especially important to make sure you're giving your prospects specifically what you said you were going to. It's also imperative that you show respect for your contact's time and therefore don't bombard them with unnecessary or irrelevant emails. While this may be somewhat forgivable in B2C, a B2B audience will easily become irritated if you're wasting their valuable work time and affecting their productivity.

Content - While both B2C and B2B emails should aim to increase brand awareness, there are still important differences to note. B2C emailing is very much focused on driving a sale, with B2B this isn't always the case - building a business relationship is important, so offering content such as infographics, reports or useful facts and figures can work well.
A/B testing (aka split testing) is essential for both types of email campaigns. There are numerous factors you can alter, and then run the emails simultaneously to determine which change works best for your audience.
This could include using a different subject line, sending at a different time or day of the week, sending different content or providing a different call to action. Monitor your metrics such as open rate and click-through rate, and then identify what worked for your organisation.
B2B Email Marketing Strategy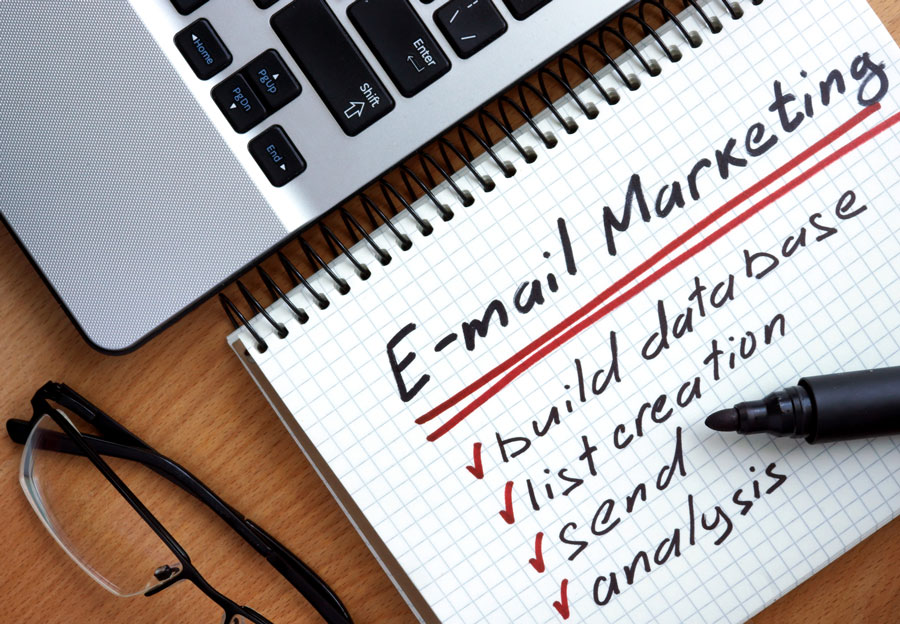 Email is seen as the most important part of a digital strategy by most B2B marketers. Putting together a truly effective strategy incorporates a number of elements, so here's what you need to do to make yours a success.
1. Build a Substantial List
In order to create an effective and cost-effective campaign, you should aim to collect sufficient contacts beforehand. There are two ways you can do this; organically and through a third-party business directory. If you're planning on doing this organically, you'll need to collect email addresses using methods such as mailing list opt-ins, offering content in return or in-person at events. While this is the less expensive method, the obvious drawback is that it can be a very lengthy process, and you're also unable to guarantee that people are giving you their real email address.
Using a reputable business directory such as Global Database offers you immediate access to thousands of potential contacts, including direct email addresses for employees at all levels. This makes it a particularly good option if you're a small or new business with limited followers, or are entering a new market niche or geographical location.
Whichever method you decide on, the good thing is that once you have your list built, you can use it for other purposes, such as uploading it to the Facebook Custom Audience tool and finding similar prospects that way.
2. Choose Your ESP
Once your list is ready to go, you'll need to select the best email service provider to suit your needs. Your ESP will allow you to manage your campaigns much more efficiently, all in one place. You can send bulk messages to different groups within your list, and they also include other useful features such as design templates and automation tools.
Examples of the most popular ESPs for a B2B email marketing strategy include:
MailChimp - Includes tools for personalisation and automation, and also provides an in-depth range of analytics. You can send up to 12,000 emails every month for free as long as you have less than 2,000 contacts. Paid accounts are based on how large your email list is.

Campaign Monitor - Easy to build perfectly-formatted emails thanks to their simple creation tool. Also includes more than 100 integrations so you can efficiently manage your email list.

Constant Contact - Starting at just $15 a month you can make use of the provider's automation tools and other useful email management features. They also offer a range of free information online to make the most of their service.
[[form]]
3. Define an Objective
Before you start putting your B2B email marketing campaign together, you need to determine exactly what your goal is. This is likely to vary from campaign to campaign, and your content and other factors will change accordingly, so it's important to get it established early on.
Are you aiming for increased brand awareness? To educate your subscribers? To encourage attendance at an event? To drive sales? Without deciding beforehand, your campaign is likely to be confused, and you won't know if it's really been a success or not.
When it comes to the specific types of emails you're sending, there are a number of options:
4. Know Your Audience
In order to send the most relevant emails to your prospects and subscribers, you need to first have a good grasp of who they are and what they need. Therefore, before you start designing content you should take the time to build your buyer personas - a profile of each type of client that you serve.
By doing so, you can send highly relevant emails that are much more likely to resonate with them, and therefore see increased engagement and ultimately boost sales. You can craft the most meticulously-designed and attractive email, but at the end of the day if it's not interesting to your B2B audience, it's worthless. As the chart below from a recent Seismic report shows, personalisation in B2B is incredibly effective - make sure you know enough about your audience to do it effectively.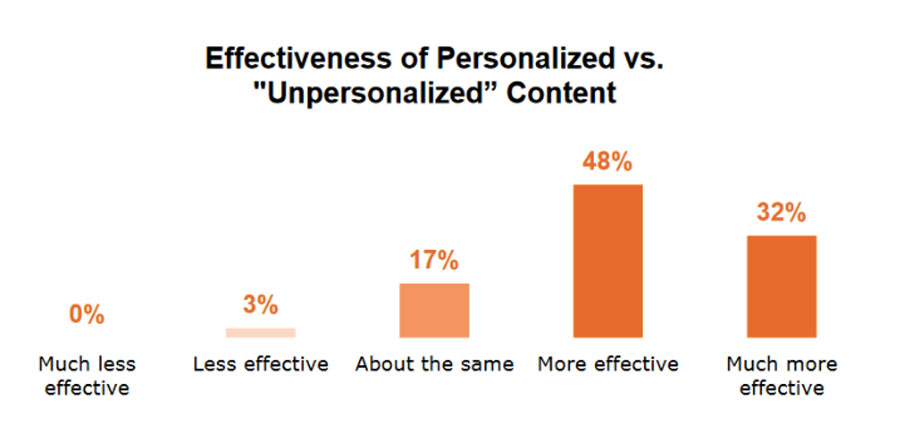 5. Create Great Content
Interestingly, a call to action that uses terms such as 'more info' receives 90% more clicks than one with text like 'try me now', according to research from digital agency Admitter based on their own B2B email campaigns. What does this show? Well, B2B audiences are clearly more interested in receiving valuable and interesting content than getting straight into purchase mode.
This is important to remember when creating your content. You should focus on providing engaging and useful information that will position your company as an authority in your niche, and help your leads to see you in a positive light. Who are they more likely to purchase from when they're ready; a company that has been harassing them and giving them the hard sell, or one that has provided them with useful content that they used to drive their business forward?
6. Segment Your Audience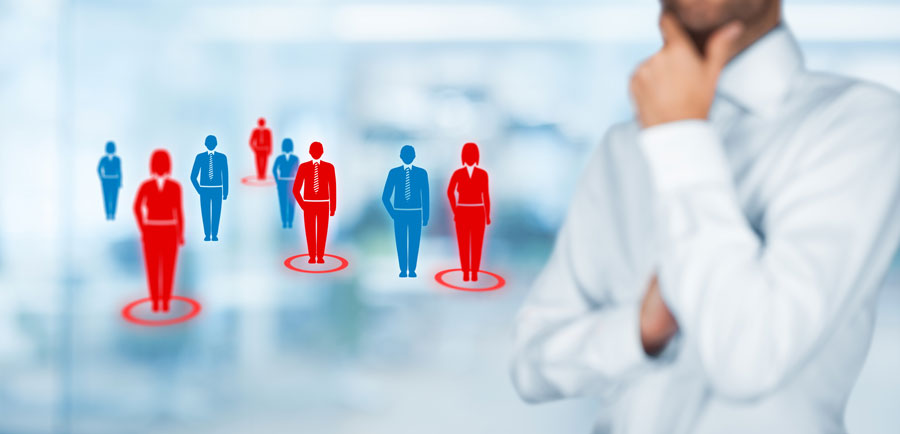 In order to provide your recipients with the content that best suits their companies, it's a very good idea to practice some form of segmentation. According to research from the Direct Marketing Association, segmented emails are responsible for generating 58% of total revenue.
You could segment your email list based on factors such as their likely budget, their location, how far they are along the sales funnel, or their interactions with your website or social media pages, i.e. those who have spent a long time on your site, and visited numerous pages, are more likely to have a genuine interest in your company. You could also group them into their previous purchase history; obviously you don't want to be sending promotions about a product to those who have already bought it from you.
7. Don't Forget Remarketing
Remarketing can be a very effective tool for your B2B email marketing strategy. It involves sending emails tailored to those who have interacted with your website in some way, attempting to bring them back into the fold. As the image below from Seosamba shows, there are a number of reasons why a customer doesn't go ahead with a purchase there and then, providing opportunity for nurturing.
You can also use a similar tactic - retargeting - for email. This involves putting ads in front of those who have opened your messages, or clicked through on a call to action. Giving them a gentle reminder of your product or service helps to keep your company at the forefront of their mind, whether they're ready to buy or not.
Data for B2B Email Marketing
According to a survey by Forbes, 88% of marketers use third-party data in order to improve their business operations. Data-driven marketing is becoming increasingly important, and even more viable thanks to the wide range of data now available. Global Database provides in-depth business intelligence that can help with your B2B email marketing campaigns in several ways:
Personalisation
The Global Database platform provides you with comprehensive data for each company listed, so you can gain a better all-round understanding of them and their challenges. This includes financial records, structure and ownership, employee details, web traffic sources, technologies used, credit scores and more.
Using this information you can tailor your communications to them, based on things like their likely budget, products or services that complement their current tech stack, or offer them solutions to problems such as decreasing revenue or web traffic.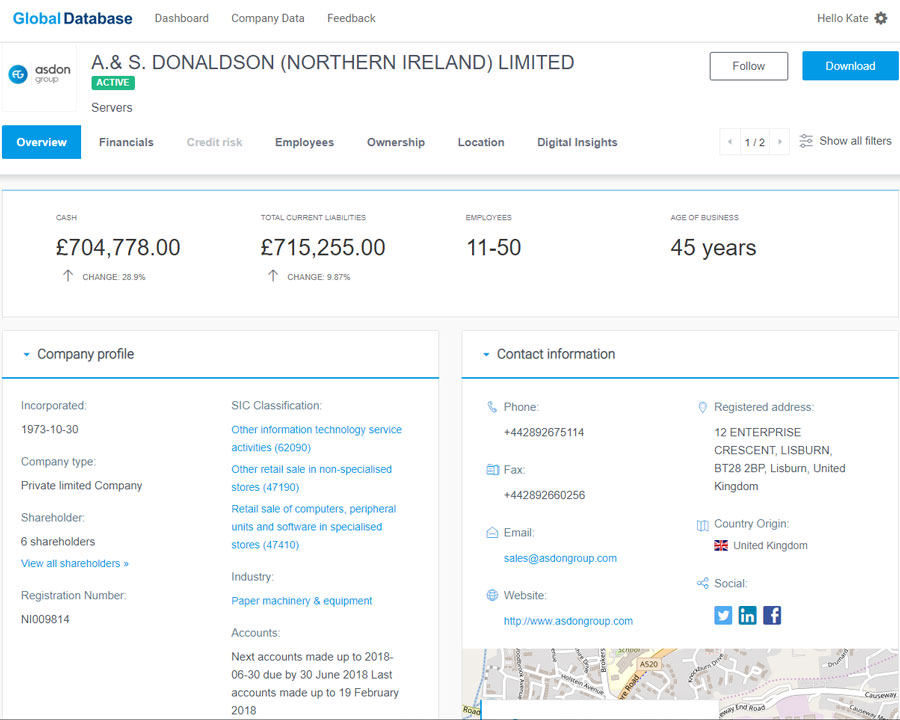 The Global Database platform provides everything you need to know about a company in one easy-to-navigate platform. You can view the company's overview, partly shown here, or click through the tabs at the top for a more detailed approach.
Segmentation
Our platform also makes the creation of segmented email campaigns very easy. We provide numerous filter tools - more than any other provider on the market in fact - so you can narrow our database to the exact requirements for each group of contacts. Maybe you want to target companies with higher budgets with different products to those with lower budgets, or segment based on other factors such as location, number of employees, industry, import or export, or something else... it takes just a few clicks.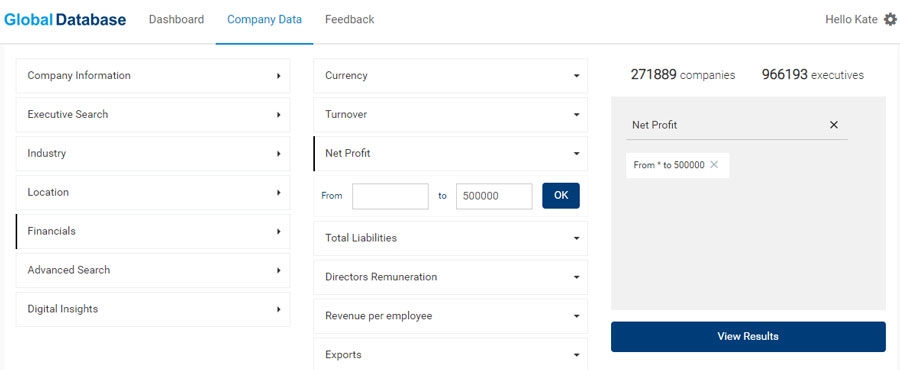 The wide range of filtering options makes it easy to create different groups within your target audience, as well as ensuring your leads are fully qualified before you add them to your email campaign.
Reach Decision Makers
Getting your emails seen by the right contact is essential when it comes to B2B marketing. Our directory offers email addresses and other contact details for employees at all levels, not just those at the very top of the chain. Whether you're planning to target CEOs, heads of marketing, or those in the purchasing department, you can add decision makers to your email list. All of our emails are validated on a 30 day basis, so they're always as fresh as possible.
Increase Efficiency
Global Database allows you to save valuable time and resources by providing all of the information you need in one place. This is much in need, given that, as the chart below from Salesforce demonstrates, salespeople are spending more and more time on non-selling tasks such as administration.
Not only does our platform give your salespeople more time to focus on setting up winning email campaigns, it also makes setting up your campaigns more efficient. You can export your email lists in bulk through our range of integrations or download it for use in your own CRM.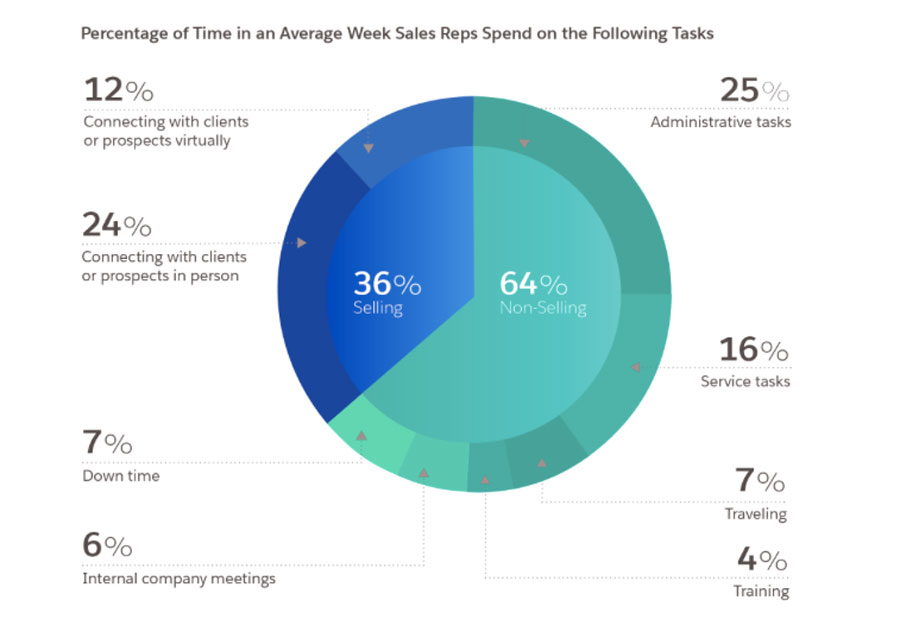 B2B Email Marketing Best Practices
Catchy Subject Lines
Research has shown that 35% of people decide if they should open your message based solely on its subject line. In order to encourage these potential customers to click onto your message, you should come up with subject lines which are clear and engaging. Avoid spam-like language that is likely to see your messages end up in the junk mail folder, don't make any false promises and don't use industry jargon.
While you want to be creative and make sure your subject lines intriguing, you should ensure that they relate to the contents of the message itself, otherwise it will leave a bad taste in the mouth of your recipients.
Clear Call to Action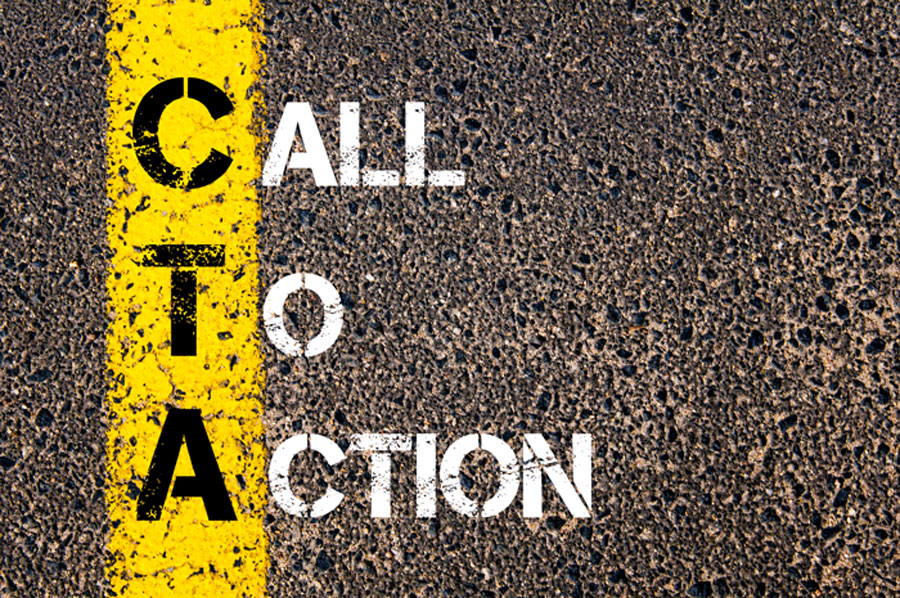 In order to make it as easy as possible for your prospects to take that next step, you should definitely include a call to action in your emails. Buttons usually work better than text, and aim to keep it to just a few words. Avoid using more than one call to action in each email; this can seem overwhelming and irritating to your audience and won't do your conversion rate any favours.
It is also a good idea however, to add social media buttons to your B2B emails. Providing you're offering interesting and engaging content, there's a good chance your recipients may want to share it - so why not make it as easy as possible for them?
Mobile-Optimised
Studies have revealed that around 55% of emails are now opened on a mobile device. This makes it vital that your emails are properly formatted with a phone or tablet in mind. This may involve leaving off large images or other attachments that might take a long time to download, making sure call to action buttons are big enough to tap with a finger easily, and avoiding long blocks of text which may be overwhelming on a smaller screen.
Right Timing
Sending your emails out at the right time of day and right day of the week can have a big impact on your engagement rates. This will vary depending on things like which industry you're in, where you're located, and the types of companies you're targeting. Therefore it's important to look at your own metrics to establish when people are most likely to open and interact with your emails. It's also important to take timing into account when you're emailing someone based on their online behaviour. For example, if someone downloads a report, it's a good idea to send up a follow up email to ask if they need any more information.
Sending frequency should also be considered as part of your B2B email marketing strategy. Again, it's a good idea to base this depending on your own past campaigns. However the chart below taken from the 2018 Manifest State of Email Marketing report shows that the majority of businesses send emails either weekly, or daily.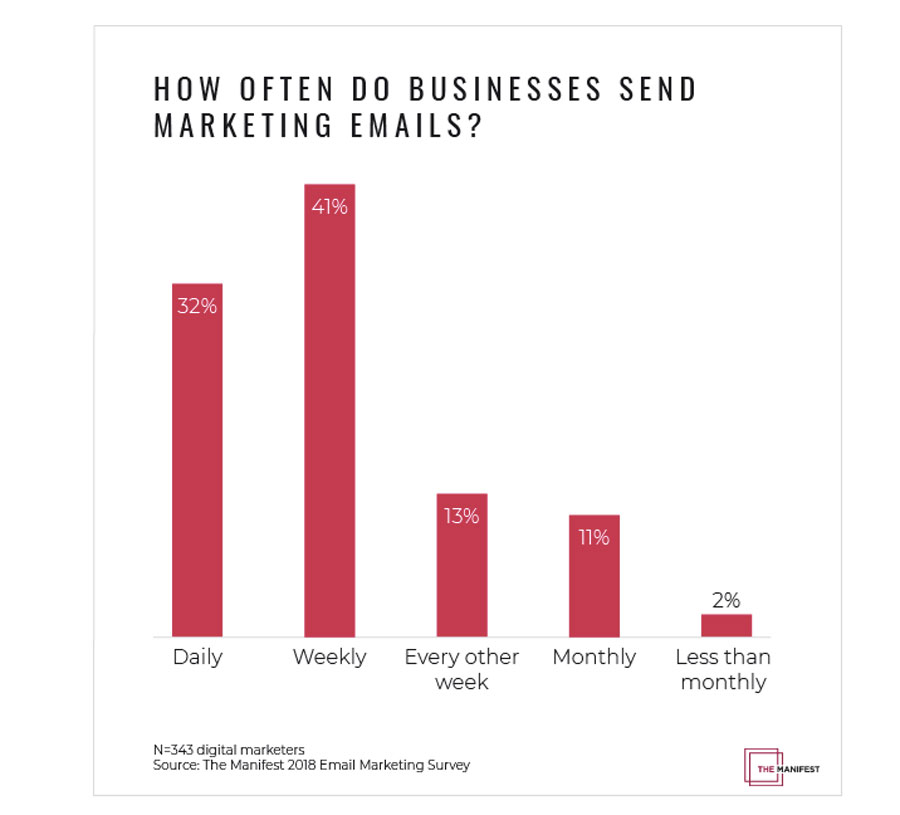 To Sum Up…
As we've explored in this article, a very different approach is needed when it comes to B2B emailing when compared to B2C campaigns. You should therefore take the time to ensure you have a solid grasp of your customer base and their needs and preferences.
Provided you have a solid and accurate email list, craft an effective strategy and follow B2B email marketing best practices, your campaigns should enjoy great engagement rates and will help to boost your product or service sales.
[[find-out]]